Koala Kid DVD Review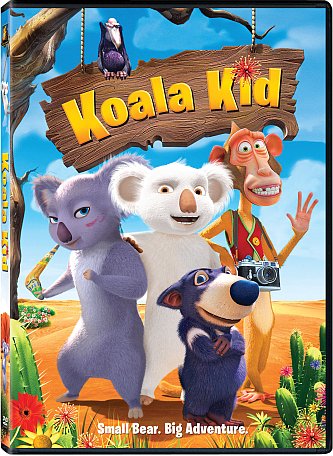 Koala Kid can now be found exclusively at Walmart! 
About the Movie: 
Journey down under and meet a whole new breed of hero in this laugh-filled, action-packed animated adventure with an all-star voice cast, including Rob Schneider, Tim Curry and Alan Cumming. Johnny (Schneider) is a rare white koala bear who just wants to fit in and make friends. But when a twist of fate mistakenly transforms him into a fearless protector of animals, called "Koala Kid," Johnny finds himself in over his head on a thrilling trek across the outback. With help from his hilarious new sidekicks, including a crafty Tasmanian devil, a lovable lizard and a boomerang-flinging female koala, Johnny may just outwit a villainous crocodile named Bog (Cumming) and become a true hero after all.
My Review:
Koala Kid is a really cute movie for kids. Bridget and I sat down together to watch it and at the end of the movie, she told me how much she enjoyed it. 
In Koala Kid, we meet Johnny, a white koala, who is shunned by his fellow koalas because he is different. I was reminded of the story of the ugly duckling at this point. Johnny feels really bad about himself and heads over to the water. He meets up with a Monkey and Tasmanian Devil, who take him with them to their home at the carnival. Johnny is going to be an attraction in the Freakshow. He's a hit at the carnival with fans lining up to see this white koala and his winning personality! Still Johnny has bigger dreams of being more than just a white koala that's interesting to look at.
Johnny and his two new friends then embark on an adventure through the outback. It's there they meet with vicious dingos and an evil crocodile, Bog, who has it in for this strange white koala. They meet up with other koalas including the pretty, Miranda,who is an expert with the boomerang! Johnny becomes known as the Koala Kid and everyone thinks he is a super hero!
When one of the koala's is mistakenly captured by the dingos on behalf of bog, the koalas and friends go on a mission to get their friend back. There's lots of excitement as they head on their journey. 
Koala Kid had some humorous moments. We laughed at the part when they were taking pictures of Koala Kid to make him look like a super hero. 
My favourite scene was at the evening party when all the Koala's were singing the Men at Work song, Down Under! I told Bridget I knew that song and sang along with the koalas.
Koala Kid is a fun family film that is full of adventure and a few laughs!
Disclosure: I was not financially compensated for this post. I received a sample of the product for review purposes. The opinions are my own, based on my personal experience with the product.