Book Review | Kevin's Point of View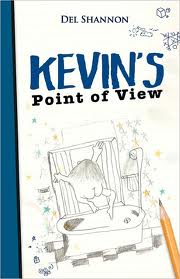 *I received a copy of this book for review, but was not financially compensated in any way. The opinions expressed are my own and are based solely on my experiences while reading this novel.*
Title: Kevin's Point of View
Author: Del Shannon
My Review:
One year earlier, 12-year-old Kevin Tobin's father was struck by a car while mountain biking in the hills of Boulder, Colorado. To cope with his father's death, Kevin sometimes slips into his imagination and pretends he is a superhero named Captain Disaster. One afternoon just before Kevin is scheduled to leave for summer camp, a mysterious package arrives in the mail for Kevin.
The package wasn't intended for Kevin, and soon he and his friends find themselves pursued by an enemy who will stop at nothing to get the intriguing device back from him. When Kevin discovers what the device can do, he realizes he has the power to alter his past and his future. That is, if he can stay alive long enough to see it through. Using his alter ego, Captain Disaster, Kevin embarks on a fantastical adventure to save his father's life.
Del Shannon's Kevin's Point of View is not the type of book I would normally choose for myself, but I was intrigued by the themes of family bonds and Kevin's method of dealing with his father's death. This book will most appeal to young readers, especially boys, around the same age as Kevin. It's an adventure that mostly involves boys, though Kevin's older sister Betsy also gets in on some of the action.
Though Kevin's Point of View appears to have been self-published, I was surprised at both the quality of writing and the care that went into the editing. I did find a few mistakes throughout the novel, but I've found that even traditionally published books often have mistakes. Jam-packed with action from beginning to end, I soon forgot any concerns I had about the publishing origins of the book and fastened my seatbelt for the ride. I definitely recommend Kevin's Point of View for both younger readers and even adult readers. I think it'll appeal more to male readers, but female readers with an interest in time travel and comedy will find something in the pages for themselves, too.
Kevin's Point of View was given a new title and cover in April 2013; if you're interested in checking out the book, look for Captain Disaster-Book One: The Influxitron at your favorite online book retailer. This title is available in paperback as well as ebook format for kindle and nook.