Julishland Jewelry Review
Disclosure: I was not financially compensated for this post. I received a sample of the product for review purposes. The opinions are my own, based on my personal experience with the product.
I love all types of jewelry and seek out fun, unique pieces that allow me to show my personal style. The Julishland jewelry collection features creative leather jewelry and accessories and for me it was "love" at first sight. Julishland is a family based business based in Israel that has talented jewelry designers with a passion for stylish leather pieces.
The Long Feature Dangle Leather Earrings ($7.00) really stood out to me and reminded me of my vintage 1980's feather earrings with a modern twist. I really liked the vibrant blue and gold color of these earrings and in real life it is absolutely stunning with vibrant colors that actually seem to shimmer. My husband commented that these earrings looked "hot" when I wore it out to dinner and I received several nice compliments from my gal friends who asked me where they could get a pair themselves. These earrings are very lightweight and therefore super comfortable to wear all day. I have sensitive earlobes and did not experience any irritation at all with this fabulous pair from Julishland.
I also love the Leather Bracelet ($22) in silver and gold which is bold and edgy. It has wonderful geometric shapes and it fits perfectly on my wrist. The leather is super soft and durable and the snap keeps it securely in place. This is a piece I can wear with a pair of jeans just as easily as when I am more dressed up.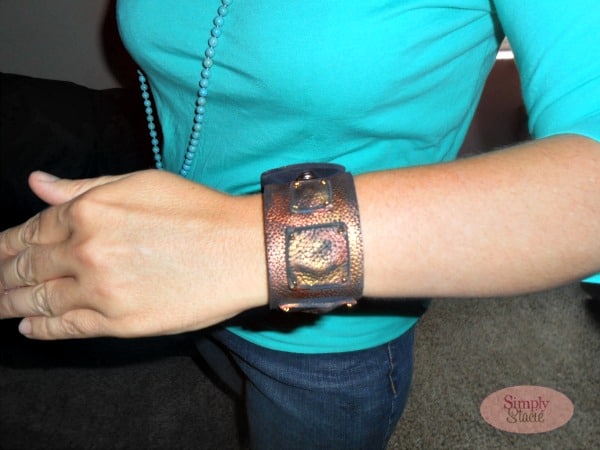 Julishland has a wide selection of attractively priced, nicely made jewelry including leather bracelets, leather necklaces, leather earrings, leather pendants and accessories. A few other pieces that I think are quite lovely include the stunning Red Butterfly Leather Necklace with Coral Beads ($33)……absolutely gorgeous! The Leather Pendant with Freshwater Pearls ($16) is also a great gift idea!
You are invited to visit the Julishland etsy shop to browse the entire collection of leather jewelry…….which piece do you think is the most amazing?!
**Simply Stacie readers can receive an exclusive discount of 15% off at Julishland by using the code: SIMPLYSTACIE15!