Iron Man 3 Film Review (Opening in Theatres TODAY!) #IronMan3Event
There is a common belief that the sequel is never good as the original. I hear that a lot in reference to books, though maybe not as much to movies. For me, it really depends on the film franchise. Long before I even knew there was to be The Avengers, I was eagerly watching the Marvel super hero movies which kicked off with Iron Man and Iron Man 2.
I recently re-watched almost all of the Marvel films (with the exceptions of Thor and the two Hulk movies; I'm still hoping for a new Hulk movie starring Mark Ruffalo) in order to prepare myself for seeing Iron Man 3 at the El Capitan Theatre. While it is most definitely a new addition to the previous Iron Man films, I would also consider it a Tony Stark-themed sequel to The Avengers.
I considered the first two Iron Man films to be a nice balance of comedy and drama, making it friendly enough for children that I did not mind if my 4-year-old daughter wandered into the room while I was re-watching the films and my husband was watching them for the first time. Iron Man 3, while still extremely funny in a few places, has a much more serious tone than the previous two Tony Stark films.
After the events in The Avengers, Tony Stark (Robert Downey Jr.) seems to have lost a little bit of confidence in himself. He fought side by side with people possessing superhuman strength (one of who is practically a god), and he is simply a man with a powerful weaponized suit. In Iron Man 3, Tony has been having trouble sleeping, is suffering from anxiety attacks, and is putting stress on his relationship with Pepper Potts (Gwyneth Paltrow).
There is a new threat against the United States in the form of a terrorist named the Mandarin. After Tony publicly calls him out, the Mandarin sets his sights on destroying him. When Tony finds himself stranded in a small town, he connects with a young boy named Harley (Ty Simpkins), a young tech genius in the making. With Harley's help, Tony fixes his suit and fights his way back home to protect what matters to him the most.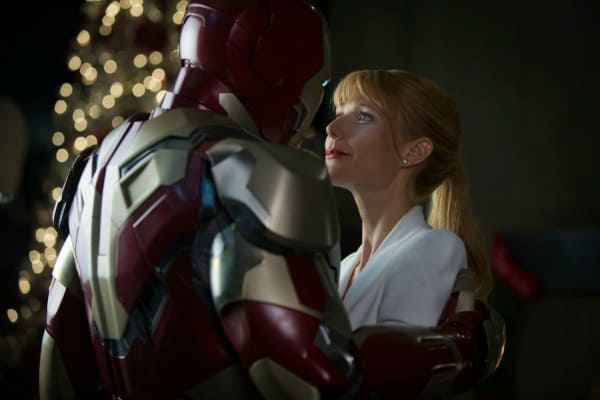 One of the things I loved best about Iron Man 3 (aside from a brilliant performance by Sir Ben Kingsley) is how people from both Tony's and Pepper's past re-enter their lives. For Tony, it is a former fling, Maya Hansen (Rebecca Hall). For Pepper, it is Aldrich Killian (Guy Pierce), a geeky man who has transformed into a more refined and charming individual. Coincidentally, Aldrich also has a connection to Tony Stark.
Ben Kingsley as the Mandarin
We were able to see Iron Man 3 in 3D, and for me it really enhanced the movie experience. Of course I'll still watch it in 2D when it becomes available on Blu-ray, but I felt as if I were right in the middle of all of the action. It truly is a roller coaster ride from beginning to end. And as someone who sometimes suffers from a little motion sickness, the 3D is so seamless and I had no problems adjusting to it. Even in the absolute back row of the theatre, I was sucked in for every action-packed second.
Iron Man 3 was an incredibly emotional film to watch; some of the scenes were mildly gritty and a bit darker than the previous Iron Man films. I still consider it family friendly, though I recommend getting a babysitter for young children and taking your children who are 11 and up to see it. Or bet yet–see it first, and then decide if you feel it is an appropriate film for your children to see (those younger than 11), and go a second time with them. You know your child best, after all! Definitely bring a buddy with you; I was so grateful to be sitting next to Marybeth from BabySavers because we needed to clutch each other's hands during the more "explosive" scenes of the film.
If forced to pick a favorite Iron Man film, there would be no hesitation in choosing Iron Man 3. The screenplay (by Drew Pearce and Shane Black) was beautifully and cleverly written, and left me breathless for more. Just what will happen with Tony Stark next? I need to know now!
"Like" IRON MAN 3 on Facebook
"Follow" IRON MAN 3 on Twitter: @Iron_Man
Visit the Iron Man 3 website
IRON MAN 3 releases in theaters on May 3rd!
*Disney provided me with an all expenses paid trip to Los Angeles to attend the red carpet premiere of Iron Man 3. The film photos used in this post were provided courtesy of Disney. Any opinions expressed in this post are entirely my own.*