Visiting the Iron Man 3 Wax Figures at Madame Tussauds in Hollywood #IronMan3Event
Remember when I told you guys that I would be visiting Madame Tussauds Wax Museum in Hollywood, and that I'd been there before and it was awesome?
Well, I lied.
You see, I didn't realize there are actually two wax museums on Hollywood Blvd. I realized my mistake as soon as we planted our feet in front of Madame Tussaud's–and saw it was right next to a Starbucks. I had most definitely not been to this part of the street before; I would have remembered that Starbucks!!
Just kidding. As much as I love my coffee, wax figurines are so much cooler–especially when this is quite possibly the only time I'll get to hang out with the one and only Tony Stark of Iron Man 3!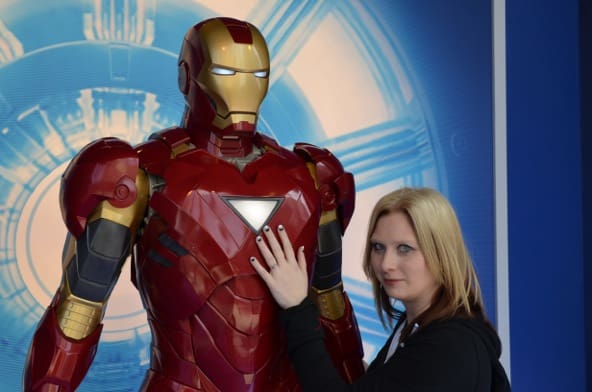 (Photo credit for all images are due to Ashley of Crunchy Frugalista)
Madame Tussauds is 200 Years Old
So why is Madame Tussauds named what it is? It all began in 1770 with a 17-year-old girl named Marie Tussaud. In Paris, she learned to make wax likenesses of the rich and famous. Those life-sized figurines would then go on a traveling exhibition. These were the days when news was passed along by word of mouth, and the exhibition gave ordinary people the opportunity to come face to face with the public figures they had only heard about. In 1835, the exhibit became a permanent fixture in London, and visitors were charged an entry fee to view the much talked about figures.
Madame Tussauds Today
After reading about the history of the museum, I am not at all surprised why this type of attraction is still popular with people of today. In Madame Tussauds, visitors can mingle with people of the past whose work is still widely recognized as well as public figures who make the headlines of today and tomorrow.
Just a Few of My Favorites at Madame Tussauds
I loved E.T. as a kid! What impressionable young child did not wish they were wearing a red hoodie and flying a bicycle into the sky with the lovable visitor from afar?
Speaking of E.T., its director, Steven Spielberg, just so happens to be my favorite director of all time. I also have him to thank for being heavily involved with my favorite flick, The Goonies. Of course I had to hang out with him, and give him some input on his latest project. It's top secret, so don't ask me for any details!
Leonardo DiCaprio and I go way back. Remember that sitcom, Growing Pains? Once upon a time, Leo was a series regular as Luke. Then Leo starred in Romeo + Juliet and Titanic, which made me love him even more. Truthfully, there's not a single role I've seen him in that I haven't liked!
How could I not stop to say hi to my friend, Hugh Jackman? It's kind of weird seeing a wax figure of someone you've met and actually talked to…
Interested in finding out more about Madame Tussauds Wax Museum? Check them out on Facebook, Twitter, and their website.
*Disney/Marvel provided me with an all expenses paid trip to Los Angeles to attend the red carpet premiere of Iron Man 3, participate in interviews with cast and crew, and a visit to Madame Tussauds Wax Museum. Thanks so much to Ashley of Crunchy Frugalista for taking all of the photographs of me in this post. All opinions expressed in this post are entirely my own.*