Elizabeth Arden Red Door Mother's Day Set Review
I actually remember when Elizabeth Arden Red Door came out in 1989. I was a tween and was just starting to get into beauty products. I used to practice putting on my mom's makeup and wearing her perfume. One of them was Elizabeth Arden Red Door! It was one of my favourites out of all her perfume bottles.
Elizabeth Arden is celebrating their 100th Anniversary and has relaunched Red Door with a new look! It's still the same fragrance that we know and love, but the box and bottle have been updated. 
I love the new look with it's modern design. The bottle is especially unique and it's quite literally a "red door". When I think of Elizabeth Arden, the first thing that comes to my mind is the iconic red door.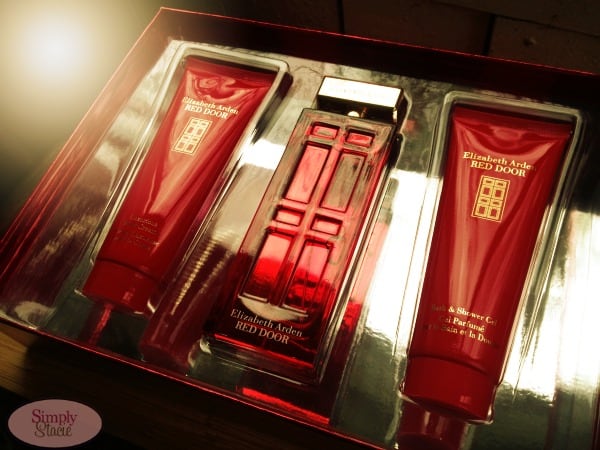 If you are looking for a last minute Mother's day gift, I recommend picking up an Elizabeth Arden Red Door Mother's Day Set. It includes Red Door Eau de Toilette Spray, Red Door Luxurious Body Cream and Red Door Bath & Shower Gel in a gorgeous white gift box. 
My mom loves to be pampered and I know she would fall in love with this set. She enjoys taking a relaxing bath every day (vs. a rushed shower like me) and always looks her best. Maybe that's her secret of looking so young I'm not sure! I know that she has worn Red Door in the past so I'm thinking of heading to Shopper's Drug Mart and picking her up a set. I'm keeping mine for myself though! It's nice to treat yourself once in awhile.
Red Door is a floral fragrance with its top notes being Lily of the Valley, Freesia and Wild Violets. It's very soft and pretty.
You can also purchase the products separately with the special anniversary packaging with the Elizabeth Arden landmark building pictured.
The Red Door Mother's Day Set is $65 and can be purchased at Shopper's Drug Mart. So if you are still looking for a nice gift for mom, go pick up this set!
Disclosure: I was not financially compensated for this post. I received a sample of the product for review purposes. The opinions are my own, based on my personal experience with the product.