Chocolate Chip Recipes
May 15th is National Chocolate Chip Day! Yes, it has it's own special day. Who knew?! When I think of chocolate chip recipes, my mind immediately goes to chocolate chip cookies! I like mine chewy and fresh out of the oven so that the chocolate melts in your mouth.
However as I was looking around online and on my blogger friend's sites, I discovered there's so many other types of recipes with chocolate chips than just chocolate chip cookies. There's pie, bars, breads, muffins and even pancakes!
Get those oven mitts on and try one of these scrumptious recipes to celebrate Chocolate Chip Day!
Chocolate Chip Cookie Dough Cheesecake from A Nut in a Nutshell
Chocolate Pecan Caramel Oatmeal Bars from Random Mommy 
Flourless Fudge Chunk Cookies from A Few Short Cuts
Frozen Banana Popsicles from Just Us Girls
Peanut Butter Chocolate Chip Pancakes from Mom vs. the Boys
Nutter Butter Balls from Mom Reviews 4 You
Cookie Dough Truffles from Moms & Munchkins
Cannolis from Confessions of an Overworked Mom
Madness Munch from Views from the Ville
Chocolate Chip Cookies from Mommy Kat and Kids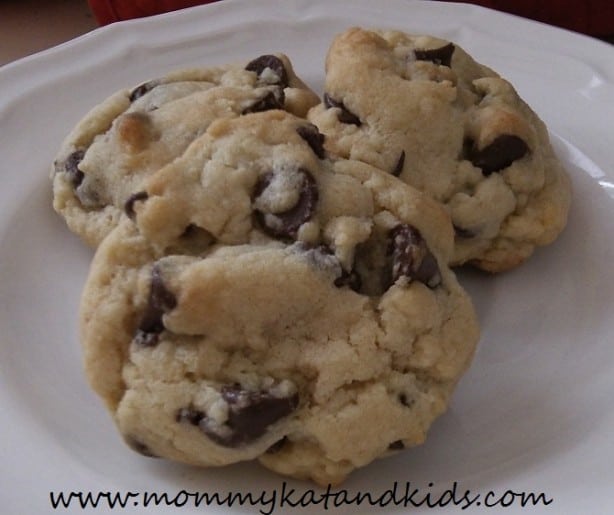 Browned Butter Chocolate Chip Cookies from Smart Savvy Living
Craisin Oatmeal Chocolate Chip Cookies from Saving You Dinero
Chocolate Chip and Almond Flax Cookies from Day by Day in Our World
Chocolate Gluten Free Cookies With Chocolate Chips from The Home and Garden Cafe
Espresso and Sea Salt Cookies from Around My Family Table
Coconut Chocolate Chip Oatmeal Cookies from Around My Family Table
Chocolate Chip Cookie Cake from Texas Type A Mom
Chocolate Chip Banana Bread from A Busy Mommy
Chocolate Chip Pumpkin Bread from Life with Captain Fussybuckets
Nutella Banana Chocolate Chip Muffins from Practical Frugality
Chocolate Chip Muffins from The WiC Project
 Oatmeal Carmelitos from This Mama Loves
Pumpkin Chocolate Chip Squares from Mom vs. the Boys
Paleo Chocolate Chip Cookie Bars from This Flourishing Life
Chocolate Peanut Butter Brownies from Tammilee Tips