Save Your Memories with artsnapz
John and I are in the process of the big Spring cleanup and are clearing the clutter in our home. It's mind boggling how much a family can accumulate in the course of a year (ok maybe a few years!). We have boxes upon boxes of paperwork including many pieces of my kid's artwork. I even came across a few things I made when I was a little girl that I have hung onto all these  years.
I have a really hard time throwing these momentos away. The mom guilt kicks in and I just can't bear to put a picture my daughter drew or painted out in the trash to never be seen again. However, I don't want to have piles of paper laying around in my house either. In this age of technology, there's an app to alleviate my anxiety and allow me to keep my daughters' precious artwork without all the extra clutter. It's called artsnapz and it allows parents to store and share their child's artwork.
I downloaded it to my iPhone and really liked how simple the interface is. After registering and inputting both my kid's information, I was ready to start documenting the memories. Bridget had made some Mother's day cards and I wanted to try out the app to see how easy it was to use. Basically, you open the app, select the child whose art it is, snap a picture and then I was given the option to share the photo on my Facebook profile. The artwork is now stored in artsnapz for me to look at whenever I want.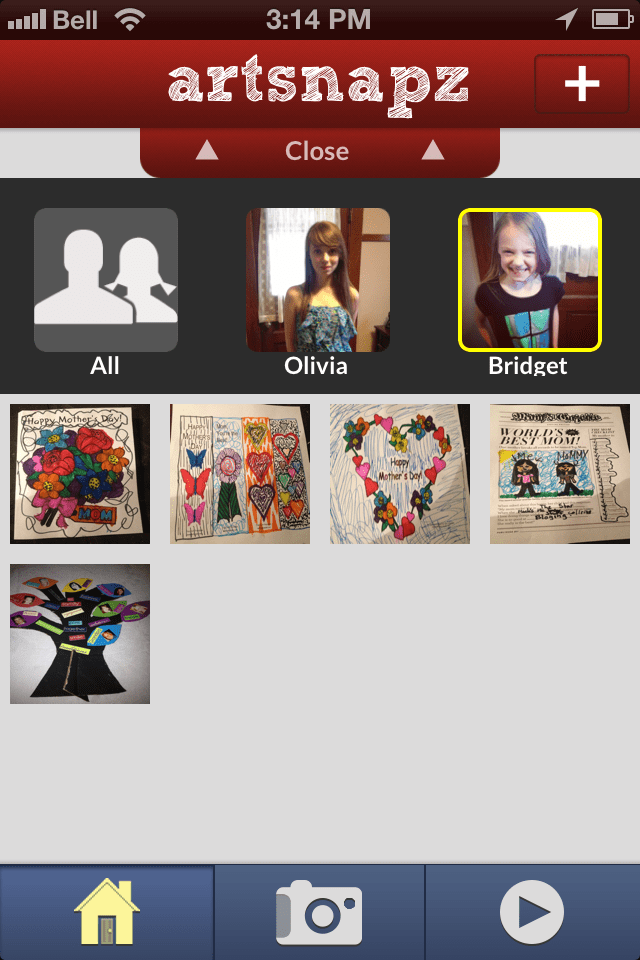 Once you get more than two photos in each child's profile, you can view all their art as a slideshow.
I love how simple the app is to use. Some apps I download and then can't figure out what the heck to do, but artsnapz was very intuitive and so straightforward. It's a wonderful for app for parents, guardians, grandparents or anyone who has a special child in their life and wants to preserve the memory of their artwork.
artsnapz is FREE on iTunes to download to your mobile device. Why not download it and see for yourself how you like it? I think it's pretty neat and anything that helps keep me organized and preserves memories is a good thing!
Disclosure: While I am financially compensated for the giveaway, the review opinions are my own, based on my personal experience