Save Time Entering Giveaways with Sweepstakes Max
Sweepstakes and giveaway fans listen up! I've got a new site to tell you about today that will save you to time when you are entering sweepstakes. Sweepstakes Max is a free site where you can find, filter and enter sweepstakes/giveaways quickly and easily.
Typing the same thing over and over when entering sweepstakes is very time consuming. Sweepstakes Max has a Smart Bookmark that allows you to both auto-fill entry forms and auto-scroll directly to the forms. After you have entered, you can quickly navigate to the next giveaway and repeat the process. You'll save time by typing and clicking less.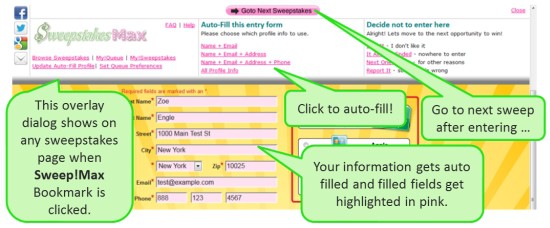 It also shows the sweepstakes in order of your preferences so you'll view the prizes you really want to win first. You'll also be able to keep track of which sweepstakes you have already entered. I love that feature because I always forget which ones I've entered. And like I said above, it's 100% free!
For myself, I have a few types of prize categories that I am looking out for: Cash, Gift Cards and Electronics. Sweepstakes Max lets you filter by category so you only see the giveaways you are most interested in entering. It also lets you filter by entry type (unlimited, daily, once, etc), by Newest/Oldest and Value. There's even a checkbox where you can exclude Facebook and Rafflecopter giveaways. I personally like Rafflecopter giveaways, but to each his/her own!
Each listing will show a picture of the prize, the value, category, end date, type of entry, country eligibility and prize description.
For my fellow bloggers, Sweepstakes Max a partner program where you can list your giveaways and earn money!
I encourage you to visit Sweepstakes Max and see what they are all about. Happy entering!
Disclosure: I was compensated for this post. However, all opinions expressed are 100% my own.