Simply Sprouted Way Better Snacks Review
I enjoy snacking but committing to a healthy lifestyle and eliminating junk food from my home has limited what I can eat. Discovering Simply Sprouted Way Better Snacks has opened up a new world of snacking for my family. Not only are the sprouted grain snacks better for us to eat than regular chips but Way Better Snacks are absolutely delicious!
What makes Way Better Snacks so special? This company uses sprouted whole grains, seeds and beans to make the tastiest tortilla chips. Sprouting is a wonderful process that can "enhance the bioavailability of nutrients and aid in digestion" which basically means that your body can absorb and process the nutrients better. The tortilla chips are gluten-free and the company only uses non-GMO ingredients. The chips are satisfying and are so crisp and crunchy!
There are a variety of delicious flavors available to choose from at Way Better Snacks including Simply Unbeatable Blues, Sweet Chili, Multi-Grain, Sweet Potato, Naked Blues and Black Bean.
My husband, children and I liked all of the flavors that we sampled with my favorite being the Simply So Sweet Chili. This tortilla chip has the wonderful flavor of sweet/sour/mild heat and includes such healthy ingredients as stone ground corn, organic sprouted flax seeds, organic sprouted quinoa, organic sprouted brown rice flour and even sprouted broccoli seeds, sprouted chia seeds and sprouted daikon radish seeds. I expect some of you might be wondering how this could possibly taste good in a tortilla chip but I promise you that it passed the "taste test" of my husband who is notoriously picky when it comes to healthy snacks…..he loves it!
My children frequently request the Simply Sweet Potato Tortilla Chips for a snack and the fiber keeps them satisfied between meals.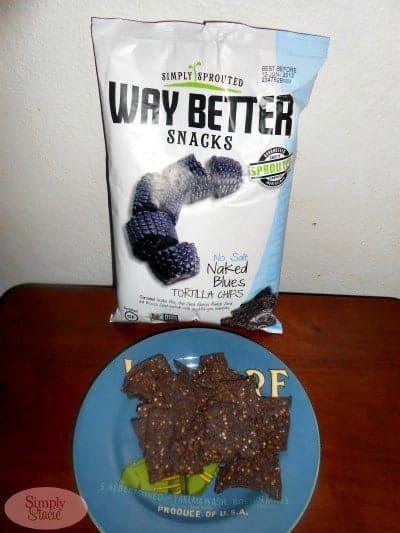 If you or a loved one is on a salt restricted diet then I highly recommend the Naked Blues which does not have salt yet still tastes great.
The Black Bean Tortilla Chips are perfect for dipping in freshly made hummus dip and is great to serve at parties…..warning, get an extra bag or two because these will vanish from the flash (from my own personal experience).
If you are looking for a healthier snack tortilla chip to serve your family then I highly recommend trying Way Better Snacks which is sure to be a hit. You are invited to visit the Way Better Snacks website to learn more about how sprouted foods are better for you and purchase your favorites online.
Disclosure: I was not financially compensated for this post. I received a sample of the product for review purposes. The opinions are my own, based on my personal experience with the product.