Salsa Chicken and Rice Recipe
Last month I mentioned that I would be trying out a new product from Uncle Ben's along with a recipe on their website. This past week I made Salsa Chicken using UNCLE BEN'S® BISTRO EXPRESS® Creamy Cheddar rice and it was incredible! The recipe is on the Uncle Ben's site, but I adapted it just a little. I added in green chilies for more heat and colour and used the Creamy Cheddar rice instead of the Vegetable Medley. The Creamy Cheddar rice was perfect and added a delicious cheesy flavour which complimented the spice of the salsa and chilies.
This was my first opportunity trying out UNCLE BEN'S® BISTRO EXPRESS® and I was honestly shocked at how easy the process of making the rice was. It's a matter of popping the pouch in the microwave for 2 minutes. The rice comes out hot, fluffy and full of flavour. I'll be picking up more pouches on my next shopping trip for more easy side dishes to add to our meals.
This Salsa Chicken & Rice was enjoyed by all in my home. It's a keeper for the recipe vault. Check out the other delicious recipes from Uncle Ben's.
Salsa Chicken & Rice
2 boneless, skinless chicken breasts, cut into 1 inch pieces
1 tsp oil
2 cups salsa
1 cup chicken broth
3 pouches UNCLE BEN'S® BISTRO EXPRESS® Creamy Cheddar rice
1 small can of green chilies
1. Heat oil in large skillet over medium-high heat. Add chicken and cook until lightly browned.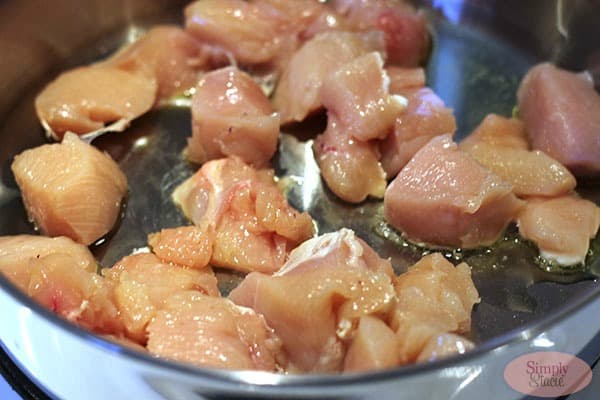 2. Add salsa, chicken broth and green chilies and bring to a boil. Reduce heat to medium-low, cover and simmer for 15 minutes. Stir in cooked UNCLE BEN'S® BISTRO EXPRESS® Creamy Cheddar rice.
The Uncle Ben's giveaway I'm hosting ends on April 3 at 11:59 pm EST. You can snag yourself a complete cooking package, valued at $120 CDN, with everything you need to make a great meal, including delicious and healthy recipes and both new flavours of Uncle Ben's® Bistro Express®, Creamy Cheddar rice and Quinoa and brown rice! It's open to Canada only.
In addition, there's still time to enter the Ben's Beginner's Contest where you can win a grand prize of $30,000 CDN!  $10,000 will be awarded as a cheque to the winner and $20,000 will be awarded on behalf of the winner to the winner's child's school for Healthy Life Style Initiatives. It's open to Canadians as well and ends April 7th.
Disclosure: I was not financially compensated for this post. I received products as compensation. The opinions are my own.