RightSize® Review
Losing weight is a tough journey for many men and women…..I have been open about my own struggle. My goal is to lose those last 25 stubborn pounds by summer and I am currently on my way with RightSize® Health & Nutrition meal replacement smoothies.
I do not like to eat breakfast on a regular basis so the RightSize® smoothies are the perfect way for me to drink my nourishment on those days that I just don't want to eat right away. I simply add one scoop of the powder to my shaker bottle (love that it is BPA free) along with 8 ounces of almond milk (or 8 ounces of fat free milk which is recommended). I shake it up and enjoy a delicious flavored smoothie that really fills me up and keeps me satisfied until my late morning snack or early lunch.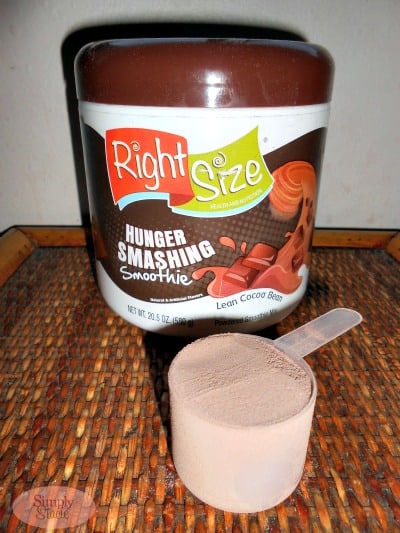 Instead of dessert in the evening, I enjoy another RightSize® smoothie but this time I mix it up in the blender with a ½ cup of ice for a frosty treat.
I was pleased to learn that RightSize® includes key vitamins and minerals such as Vitamin D, Vitamin B12 and magnesium along with green tea and ginger root. I will admit that I don't normally use supplements that contain soy protein isolate however in this case I made an exception because it is packed with so many vitamins/minerals and it has a whopping 15 grams of protein and 6 grams of fiber per serving!
How does it taste? I have enjoyed the Lean Cocoa Bean, SkinniVanilli and Slend-a-Berry and there is even a Leano Cappuchino. It blends smoothly and tastes really good with no strange aftertaste. It is sweetened with sucralose and would love to see the company add a RightSize® smoothie option made with Stevia as an alternative.
The RightSize® website is a treasure trove of helpful information to help you meet your weight loss goals. You can even choose the RightSize® plan to fit your personal goal/lifestyle and get you started on the right track to success. I even checked out the delicious recipes with my favorite being the Banana Passion….yum!
Overall, I am very pleased with my experience with RightSize® and have lost a total of 7 additional pounds since drinking this smoothie as a breakfast replacement and occasionally as my evening snack (dessert).
Are you ready to get started? You are invited to visit the RightSize® website to learn more about the product line and even shop online. You can purchase a 30 serving tub for $54.80 or save by purchasing enough product for 30, 60 or 90 days.
Disclosure: I was not financially compensated for this post. I received a sample of the product for review purposes. The opinions are my own, based on my personal experience with the product.