Playtex SmartSteam™ Microwave Sterilizer Review
For the last year slaving over a hot stove to sterilize my daughters bottles in a giant pot of hot water has been a daily event. I'm sure some of you can empathize Although we breastfeed, as a NICU baby I had to use a breast-pump on a schedule and my daughter took bottles from the time she came home. Sterilizing all the bottles we used was just something that had to be done, and done often.
That all changed when Playtex sent us a Playtex SmartSteam Sterilizer 3-in-1 microwave system. The system includes a dishwasher basket, lift out drying tray, tongs and of course the microwave sterilizer. It is also able to kill 99.9% of germs in under 2-minutes which makes the entire sterilization process quick and easy.
No more waiting for your water to boil, no more spending 10 minutes watching the water boil, no more having to use kitchen tongs in an effort to retrieve the bottles without burning yourself.
As soon as I received the SmartSteam sterilizer I got to work with some bottles that needed sterilization
The first step is to fill the center of the sterilizer tray with water to the fill line. It actually doesn't take much so you are also conserving quite a bit of water with this system.
You can then place in the drying tray and dishwasher basket and place in the drying tray up to 6 bottles and then fill the dishwasher basket with nipples, rings and other accessories.
Next just close up the sterilizer with the Snap 'n Click Closure and place in the Microwave. Microwave times vary depending on the power of your microwave. Mine took only 2 minutes until it was done. At that point you just want to leave it to cool down until you are ready to deal with it. What a difference from having to sit and watch a pot boil!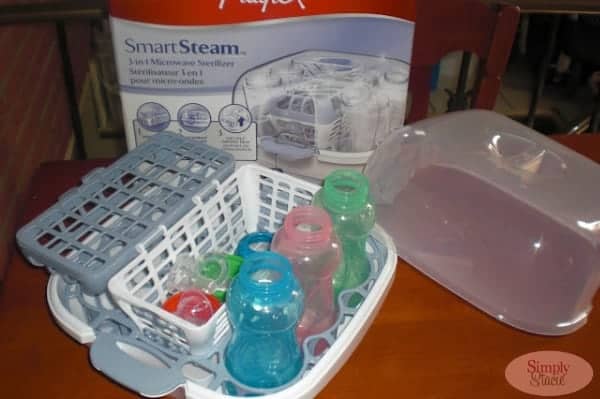 The sterilizer system also features heat resistant handles so if you do remove it from the microwave before it is completely cool you don't need to worry about burns. Once everything was cool I was able to use the tongs to hygienically transfer the bottles and parts into storage.
Disclosure: I was not financially compensated for this post. I received a sample of the product for review purposes. The opinions are my own, based on my personal experience with the product.
Elizabeth is an IT Professional and a Family Review Blogger at Frugal Mom Eh. She enjoys writing about a variety of topics including parenting and frugal living. When not writing she enjoys playing with her daughter 'Keira', painting and reading.