Book Review | Outdoor Crafts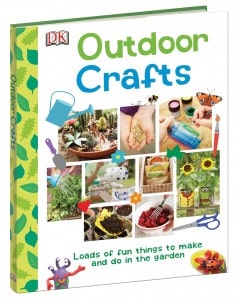 Title: Outdoor Crafts
Author: DK Publishing
About the Book:
A collection of fun, beautiful projects that children can make and do outside, Outdoor Crafts incorporates natural materials that children can find in their backyard, or that they've grown themselves in a garden or pot.
The book is divided into three sections — Make It, Cook It, and Create It. In Make It, children can create labels for the garden, decorate flower pots, and make a scarecrow. In Cook It, children can get recipes for muffins, blueberry cheesecake, lemon ices and more using the crops from their garden. And finally in Create It, readers can learn to make a path in their garden, make paper from corn and more. In Outdoor Crafts the projects are complete with easy-to-follow instructions and step-by-step photography so that kids of all ages can take part and create wonderful crafts they'll be proud to display.
My Review: 
I always look forward to the start of Spring. I hate being cooped up inside because of snow or poor road conditions. Now that the weather is finally starting to get nicer (knock on wood for no more snow!), we've been tentatively venturing outside to get some outdoor projects started. My daughter, Bridget, loves going outside and helping John with the yard work and in the garage. We've got a number of projects lined up over the coming weeks thanks to DK Publishing's book, Outdoor Crafts.
The book has three sections: Make It, Cook It, and Create It. In Make It, you can find easy gardening projects that kids can do. It has crafts for making labels and markers for the garden, containers for plants, garden decorations and an interesting looking Garden Buddy made with recycling materials. Each project is written out step-by-step with lots of pictures. It's written in simple language for kids to read.
In Cook It, kids learn how plants become food and there's a handful of recipes that use fruits, veggies and herbs. We don't have a garden so we bought some carrots and potatoes from our local grocers. This past weekend, we made potato and carrot chips. They were delicious! Homemade is so much better. The Carrot Chips were sweet and crispy.
There's a recipe for Lemonade Ice Pops that Bridget really wants to try. This is a kid who eats lemons like oranges. Other recipes include Herbal Sun Tea, Mini Pumpkin Pies and Pepper Hummus.
Create It has craft projects using plants. I thought the Lavender Buddy was really cute. He's made from an old sock.  The Fairy Ring looked easy enough for us to do.
I also liked that the book had an educational component. There's a Bug Quiz as well as oodles of informations about plants and how they grow. It's all explained in child-friendly language that makes it interesting to read and learn.
Outdoor Crafts is part of DK Canada's Earthly Pleasures Boutique. Check out their selection of gardening books, nature books and children's books that would make a great Earth Day gift.
Find it on Amazon.ca
*I received a copy of this book for review, but was not compensated financially in any way. The opinions expressed are my own and are based solely on my experiences while reading this novel.*