JF Aesthetic Weekly Mini-Peel Brightener Lite™ Review
Spring is the perfect time to banish the winter blahs and rejuvenate your skin. I have discovered an excellent product to help you rediscover smooth, vibrant and glowing skin. JF Aesthetic has a Weekly Mini-Peel Brightener Lite™ that is surprisingly gentle yet extremely effective.
How does it work? This product uses a powerful combination of phytic, lactic and azaleic acids to rid skin of dull, dry skin so that clearer skin can emerge from underneath. I was worried that this product would cause my sensitive, dry skin to become irritated and red as I have experienced with other brands in the past. However, I was thrilled to discover that I did not have any negative side effects from using this product and instead love my newly fresh complexion.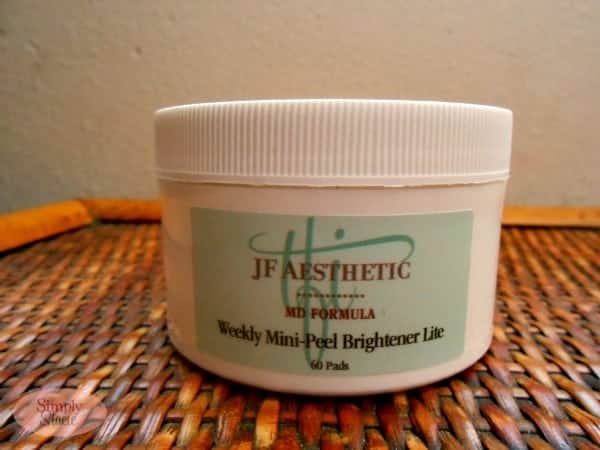 To use the Weekly Mini-Peel Brightener Lite™, I washed my face with my regular cleanser and then swiped the pre-moistened pad gently across all the areas of my face (except around my eyes and in the crevice of my nose). I relaxed for 15 minutes while allowing the product to work and then rinsed it off and applied my favorite facial cream. I used the product once per week this way for the first two weeks and then on the third week I applied it at night before bed and left it on until morning. By the fourth week, I noticed that my skin looked more vibrant and had a subtle glow even when not wearing any make-up. On those occasions that I did wear make-up, I noticed that my mineral make up applied smoother and lasted all day long with no need for additional touch ups.
I highly recommend this product if you are looking to revive your skin with a fresh new look for the new season. I will continue to use this product weekly because I am delighted with the results that I am seeing from using it.
JF Aesthetic Weekly Mini-Peel Brightener Lite™ is like having a salon quality treatment in the comfort of your own home. Created by a board certified plastic surgeon, Dr. Few has developed a skin care regime that is safe and effective. You are invited to visit the JF Aesthetic website to purchase the Weekly Mini-Peel Brightener Lite™ (SRP $75) and browse the entire collection of high quality skin care products.
Disclosure: I was not financially compensated for this post. I received a sample of the product for review purposes. The opinions are my own, based on my personal experience with the product.