I'm Off to Hollywood for Disney/Marvel's Iron Man 3 Red Carpet Premiere! #IronMan3Event
In February, I had a "pinch me, please!" moment when we met Kevin Feige, the president of Marvel, and he showed us about ten minutes of footage from Marvel Studios' upcoming action flick, Iron Man 3. It doesn't arrive in theaters until May 3, 2013, but I and 24 other incredible bloggers will be walking the red carpet on April 24th and seeing it for the first time with the cast of Iron Man 3 and other celebrities.
I never imagined I would be returning to Los Angeles so soon after Oz the Great and Powerful, so I am truly thanking my lucky stars for this experience! I love getting dressed up for the red carpet (since it's the only time I really dress up!!), and as you all know, I LOVE movies! I am pretty sure my husband and I combined own over 600 movies, not including all of my blu-rays.
Robert Downey Jr.'s Tony Stark is easily one of my favorite superheroes of the Marvel universe, with Chris Evans' Captain America/Steve Rogers and Chris Hemsworth's Thor right on his heels.
Here are some of the highlights of the trip:
Breakfast at the El Capitan Theater Soda Fountain: I've always noticed the cute little soda fountain next to the El Capitan Theater, but I've never actually gone inside. Seriously, how adorable is this?
A visit to Madame Toussauds Wax Museum: I've been here before! It's so much fun! On my very first trip with Disney, I went sight-seeing around Hollywood Blvd. with my LA friend and this is where we went one night. Our blogger group will be visiting the wax museum for a photo opportunity with the one and only Tony Stark! I'm so excited to go back to the wax museum to see old favorites and check out what's new.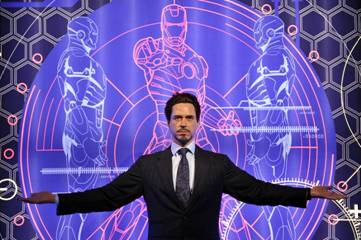 Group Interviews: I am nervously chewing my fingernails while we wait to find out who we are interviewing from Iron Man 3. My dream interviews would be with Robert Downey Jr., Gwyneth Paltrow, Guy Pearce, and Ben Kingsley, but I am excited to talk to anyone who starred in this film!
You can get real time updates on this event by following @simplystacienet on Twitter and the Twitter hash tag #IronMan3Event. We're busy tweeting now, so join the fun and see what all 25 of us are up to as we count down the days until we arrive in Los Angeles!
"Like" IRON MAN 3 on Facebook
"Follow" IRON MAN 3 on Twitter: @Iron_Man
Visit the Iron Man 3 website
IRON MAN 3 releases in theaters on May 3rd!
*Disney is providing me with an all expenses paid trip to Los Angeles to attend the red carpet premiere of Iron Man 3 and participate in group interviews with select talent from the film. All thoughts and opinions are entirely my own.*