Fresh Feet Review
Even though spring has just now arrived in New York, my thoughts are already on summer. I've already bought both my boys some clothes for the warmer weather, and as we get closer to needing them I'll take them out to get their summer shoes. But along with the cute summer shoes comes a big problem with both my boys – dirty, smelly summer feet. So when I heard about Fresh Feet Wipes from Jasmine Seven, LLC, I have to say I was quite intrigued.
Jasmine Seven, LLC was started in Rhode Island by entrepreneurs Vinu and Ann Malik. The Fresh Feet Wipes were Ann's idea as a solution for adults and children to refresh their feet after a long day in flip flops and sandals. Based on her experiences cleaning her feet with baby wipes when she was younger and having even more feet to clean once having children, Ann wanted to bring to the market a simple way to quickly clean, cool and refresh tired dirty feet, and so Fresh Feet Wipes were born!
I received a package of Peppermint Fresh Feet Wipes, Fresh Feet Wipes for Kids, Yoga Mat Wipes, and an assortment of colorful shoehorns for review. What I really like about these wipes is the "lightness" they have to them. They're not sticky or oversaturated. The scents are light and enjoyable. As they are formulated for both hands and feet, I decided to give the peppermint wipes a try on my hands first. As I used the wipes I instantly felt a cool refreshing feeling on my skin. There was no sticky or dry residue left behind. I also felt a softness to my skin after using the wipes which was really nice – a result of the aloe and Vitamin E ingredients I'm sure. When I tried them on my feet I had the same result. And since my skin dried within seconds of using the wipes there was no fear of walking on my tiled floors immediately after using them. Since they were so gentle on my sensitive skin, I felt good about using them on my boys. These wipes are going to be a life-saver come summer time! The thin and compact packaging made them perfect for stashing a few packs in my diaper and beach bags this summer. Three packs of 10 wipes retails for $9.95 on the Fresh Feet Wipes site.
To see the full line of Fresh Feet Wipes, check out their website.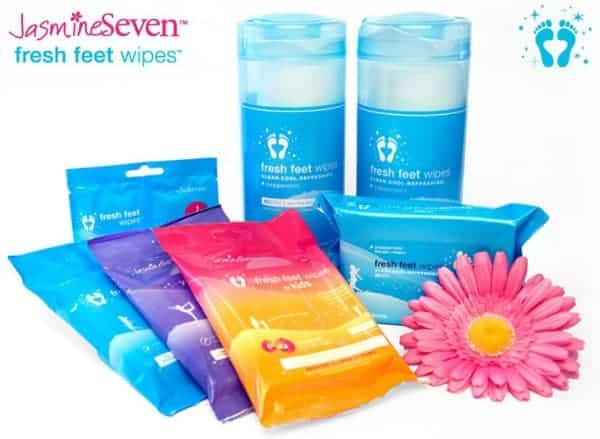 Disclosure: I was not financially compensated for this post. I received a sample of the product for review purposes. The opinions are my own, based on my personal experience with the product.