Colonial Candle Review
The season of weddings is soon upon us and if you are like me you always struggle with finding the perfect gift ideas for the new couple. When I discovered the beautiful candles from Colonial Candle, the fresh scents and pretty packaging of each high quality candle immediately made me think of this as the perfect source for wedding gifts.
I fell in love with the latest scented candle collection from Colonial Candle which is inspired by favorite cocktails. Colonial Cocktails elevates "happy hour" with fun, delicious smelling scents including Strawberry Daiquiri, Pina Colada, Gin & Tonic, Mint Julep and much more. I love the fun twist and retro 60's design where you can even remove the candle label for a cocktail recipe inspired by the fragrance. Care to join me for a Sweet Tea & Vodka anyone?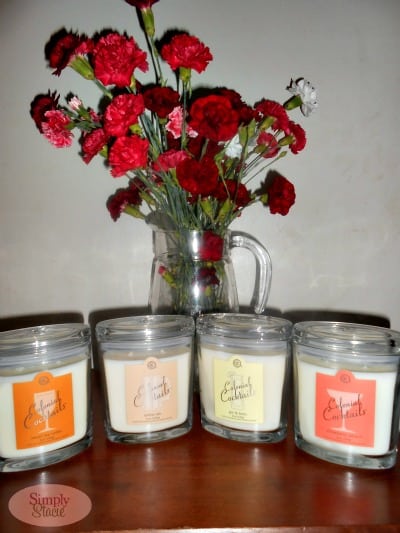 I am very impressed with the unique, fresh scent in the four scents that I am using in my home. The Sweet Tea & Vodka candle ($16/8 oz oval) has a wonderful freshly brewed tea aroma with notes of brown sugar, vanilla vodka and "iced orange blossom toast" (this really adds depth to the aroma and it is amazing!).
The classic Strawberry Daquiri ($16/8 oz oval) is fun and flirty and a lovely candle to illuminate at spring picnics, barbecues or on the patio deck. It has a vibrant yet subtle scent of fresh strawberries and a touch of rum and sweet and sour…….you have to smell this yourself to understand how wonderful this candle is from the Colonial Cocktails collection.
My husband is a passionate home brewer so I knew that he would love the Amber Ale candle. This candle will transport you to your favorite neighborhood pub with amazing notes of malt and hops (my husband said he could immediately smell the malt and hops) along with earthy wood and chocolate. This is our personal favorite and we love to light this up in the evening when the kids are in bed and toast one another with a bottle of his home brew.
Another favorite is the fresh aroma of the Gin & Tonic candle which has the crisp hint of lime, bubbly tonic and dry gin. We lit this candle one evening while relaxing in our lounge chairs and staring up at the stars while sipping the Gin & Tonic cocktail recipe from the candle label.
The Colonial Cocktails collection is an exclusive at Colonial Candles. You can feel confident that each and every candle is made of premium wax with two cotton wicks for cleaner burning, long burning time and the most amazing scents I have ever smelled in a candle.
Colonial Candle has a wide selection of the highest quality candles in a variety of fragrances, sizes and styles such as classic tapered candles, tea lights, travel tins, votive candles, simmer snaps, jar candles and even gift sets. These candles and candle accessories are the perfect idea for wedding gifts, bridesmaid gifts and hostess gifts this season but be sure to pick up a few for yourself because you are definitely going to want to keep some for your own home.
You are invited to visit Colonial Candle to browse the entire Colonial Cocktail candle collection!
Disclosure: I was not financially compensated for this post. I received a sample of the product for review purposes. The opinions are my own, based on my personal experience with the product.