I'm grateful that my youngest daughter, Bridget is a good eater. My oldest, Olivia, was an extremely picky child (although she's grown out of it somewhat now that she is a teen). It's a nice change to have a kid that enjoys a variety of food. Bridget seems to be always hungry! I swear I can't keep enough snacks in the house for her. She's got a very healthy appetite.
She's in school full-time, but on the weekends, she loves to snack between her meals. This past week she tried out a new snack from Dare: Bear Paws Morning Snack. I was very familiar with Dare as they have been in Canada for 120 years, but this was our first opportunity to try Bear Paws Morning Snack.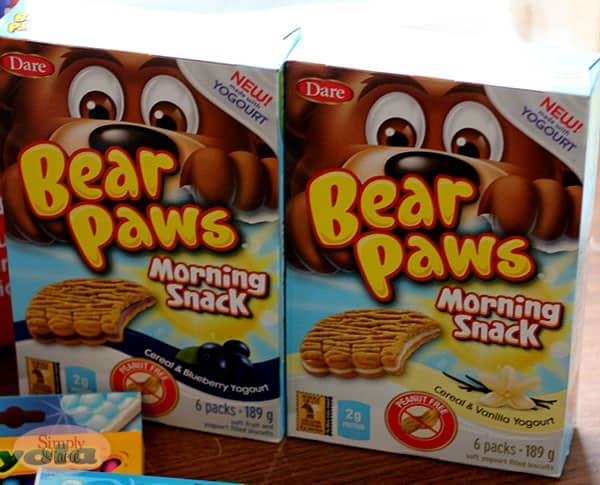 Bear Paws Morning Snack are perfect to satisfy your child's mid morning hunger pangs. They look like a cookie with cereal on the outside and yogourt filling on the inside. As you can see they are in the shape of a bear paw making it fun for the kids to eat.
Dare has introduced two new varieties: Cereal & Blueberry Yogourt and Cereal & Vanilla Yogourt; we had a box of each to try. Other varieties include Cereal & Strawberries, Cereal & Raspberries and Cereal & Apple.
Bear Paws Morning Snack are also a source of nutrition with with 8g whole grains, 2g of protein, 2g of fibre, real yogourt, and are a source of calcium. I appreciate that they also have no artificial flavours or colours added.  They also meet the highest nutritional guidelines of schools in Ontario, Saskatchewan, PEI and Quebec
I served Bridget a mid-morning snack consisting of a glass of milk, apple and a Bear Paws Morning Snack in Vanilla Yogourt. It gave her the fuel she needed to continue on with her busy day. I wish I had her energy!
Bridget said her favourite flavour out of the two is the Vanilla Yogourt. I tried them both as well and thought they were really good too. The cereal is soft to chew and the filling is the perfect amount of sweetness. She said the best part was the filling. I figured she would say that since she has a bit of a sweet tooth!
Bear Paws Morning Snack are also peanut-free so they are safe to include in your child's lunch for school. The Peanut-free icon is displayed on the very front of the package. Most schools nowadays are peanut-free so parents really need to watch what snacks their child brings with them to school. I also learned that Dare was one of Canada's first peanut-free food manufacturers back in 2004.
Each box contains 6 32g individually wrapped snacks so they are portable for kids to bring with them to school or even for me to throw in my purse if I'm heading out the door and want a snack for the road. You can purchase them  at major grocery and mass merchandise stores across Canada for a SRP of $2.99.
After eating her morning snack, Bridget was ready to take on the day. She loves games and spent some time playing Jenga. She was able to get it pretty high before it toppled over.
We finally had some nice Spring weather so we went outside for a bit. Bridget drew on the driveway with sidewalk chalk. She surprised me with this little message. It melted my heart!
I also wanted to share something cute she did while in the car at the Tim Horton's drive thru. She brought her Magnetic Drawing Board with her and wrote on it, "I love Tim's" and held it up for the Tim Horton's server to see. I had no idea she had done this until the Tim Horton's server said to her co-worker, "Look at the little girl's sign". I turned around and looked in the backseat and there was Bridget holding her sign. She's quite the character and a true blessing.
Connect with Bear Paws on Facebook. They've created a space for moms to connect, learn and share ideas on how to make family life easier and harmonious.
Disclosure – I am participating in the Bear Paws Morning Snack "Feed the Fun" blog tour by enCompass Media on behalf of Dare. I received compensation as a thank you for participating and for sharing my honest opinion.