A Monster in Paris DVD Review
On April 16th, 2013, director Bibo Bergeron's A Monster in Paris arrived for the first time in America on DVD, Blu-ray 3D Combo Pack, and Blu-ray 2D with DVD and Digital Copy. Bibo Bergeron also directed Shark Tale and The Road to El Dorado.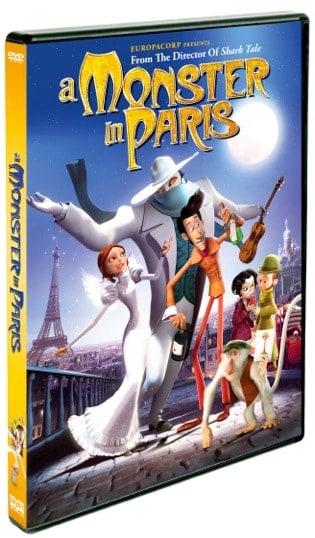 The Trailer
A Monster in Paris takes place in 1910 in Paris, when the Seine river was high and the feet of the Eiffel tower were completely under water. The citizens would often travel to and from destinations by boat. The story follows a cast of endearing characters, including inventor Raoul, an inventor; his timid movie loving friend, Emile; Maud, the girl of Emile's dreams; Lucille, a beautiful singer; Charles, an intelligent monkey; and last but not least, Francoeur, the "monster".
Raoul and Emile are responsible for creating the "monster" when Raoul starts playing around in the empty workspace of a brilliant scientist. Charles (the monkey) attempts to stop them, but to no avail. Emile captures the image of the now larger-than-human flea, who is soon sighted all over Paris. The Commissioner, who is tired of the headlines about the rising river, is eager to fill the headlines about the monster and to gain attention for destroying it.
It is Lucille who discovers that the monster is more than he appears; when he shows up in the rain outside her aunt's night club, she learns that he has a gift for song. She takes him in, names him, and introduces him as their new talent. But soon the Commissioner, who has eyes for Lucille, finds out where the "monster" is hiding, and Lucille, Raoul, Emile, and Maud will have to work together to keep him safe.
I had not heard of A Monster in Paris before, and I also had not seen Shark Tale or even The Road to El Dorado, which was a popular animated film when I was younger. Elements of A Monster in Paris reminded me of favorite stories like Phantom of the Opera, Disney's Hunchback of Notre Dame, and even a little of Beauty and the Beast, so I really wanted to check it out.
A Monster in Paris is charming, funny, and exciting. I loved the story, the quirky characters, and especially the music. Vanessa Paradis, who does the speaking and singing voice for Lucille, was especially enchanting. The animation studio (EuropaCorp), however, might seem lacking for those who are more familiar with DreamWorks and Pixar, but the style was still interesting to me and painted a lovely landscape of Paris. I may now go back and watch Bibo Bergeron's earlier works as well.
I'm so glad I took a chance on this beautiful story; had I not, I would have been missing out. I've now watched it through twice and see myself watching it again whenever I'm in the mood for a magical story of friendship, music, and whacky inventions.
La Seine
Disclosure: I was not financially compensated for this post. I received a sample of the product for review purposes. The opinions are my own, based on my personal experience with the product