The Wallet Wand Review
I hate lugging my purse around when running errands at the farmers market, heading to the grocery store or bank or enjoying a night of dinner and dancing on the town with my husband. Unfortunately, I also dislike holding my wallet in my hand so I always have to go out with my heavy purse over my shoulder. Thankfully, that has all changed since I discovered the The Wallet Wand!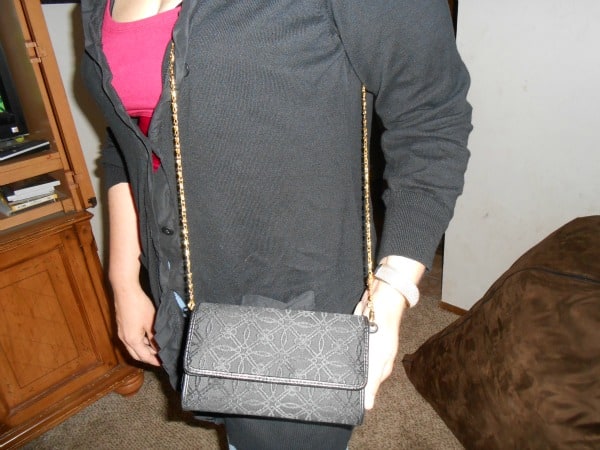 This simple concept is absolutely brilliant and "bravo" to Jamie Gaerlan for inventing The Wallet Wand. I really appreciate that the creator is a woman with a vision who has designed a functional product that will work for every woman! I can now leave behind my purse whenever I like and use The Wallet Wand instead of digging around in my purse to find my wallet.
How does it work? The Wallet Wand "magically" transforms my checkbook-sized wallet into a purse by adding a strap to it. It is very easy to set up The Wallet Wand and I followed the instructions that were included in my kit to add the chain instantly turning my favorite wallet into a purse.
You can watch this video to see The Wallet Wand in action!
The Wallet Wand comes with everything you need to turn your own wallet into a purse. Each set includes Two Wallet Wands, one 55 cm silver tone curbed link chain, one 120 cm gold tone lumachina link chain and four 5" x 0.5" adhesive strips for trifold wallets. I love that your kit includes a silver tone and gold tone chain so you can match it to your personal preference or outfit.
I love The Wallet Wand and honestly can't imagine going back to my overstuffed purse. I find myself using The Wallet Wand the majority of time since it is easier to carry along and much more comfortable and convenient to wear.
The Wallet Wand is attractively priced at only $19.95 and is available for purchase by visiting The Wallet Wand website.
Disclosure: I was not financially compensated for this post. I received a sample of the product for review purposes. The opinions are my own, based on my personal experience with the product.