Book Review | Twisted Fairy Tales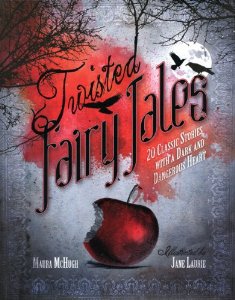 Title: Twisted Fairy Tales
Author: Maura McHugh
My Review: 
Fairy Tales are one of my favorite types of books to read. They take you to a world that is as familiar as childhood, but still full of wonder and delight and romance as an adult. I love the different variations that each author brings to the stories. The different world that each one weaves from their imaginations. Twisted Fairy Tales by Maura McHugh has been written in a different and somewhat macabre twist on some of the more famous and not so famous fairy tales. It was a book that caught my attention just from the title alone. I breezed through this book in one sitting, not wanting to put it down. My curiosity as to what new twist she would bring to the stories kept me enthralled.
The book is colourful and beautifully, albeit a little gruesomely illustrated by Jane Laurie, which only adds to the effect of the tales. The stories are long enough to give detail to each Fairy Tale, yet short enough to read as a bed time story, if you dare. They carry just enough of a twist from the originals, that you are left guessing what could happen next. My favorite two in the book were "Vasilisa's Fire" and by far, "The Cinder Wench."
This book is not meant for the young child, but rather the young adult. However, if you are like me, and soak up all things Fairy Tales, then this will be a delightful addition to your Fairy Tale collection, even as an adult, still believing in The Fairy Godmother.
*I received a copy of this book for review, but was not compensated financially in any way. The opinions expressed are my own and are based solely on my experiences while reading this book.*