Tully's Coffee Hawaiian Blend Review #YourPerfectCup
My Facebook feed today showed many of my friends angry with Punxsutawney Phil. Old man winter is blasting them with snow! The storm is on it's way to us right now and is expected to hit tonight. I've decided to pretend that I'm on the beach in Hawaii. That sounds much nicer than sitting in the cold in Canada doesn't it? To help me achieve my vision, I'm drinking a cup of Tully's Hawaiian Blend coffee in this fancy coconut shell mug. I also have a fake Hibiscus flower that I'm tucking behind my right ear. The Hawaiian tradition says to put the flower behind your left ear if you are single and available and the right ear if you are attached.
All of Tully's coffee is slow roasted to bring out the full flavour of the coffee beans and they take an artisanal approach when it comes to coffee. Hawaiian Blend is made with 10% Hawaiian beans as well as other Arabica beans. The flavour is mild and smooth and I noticed a hint of sweet tartness. I like that the taste isn't overpowering. I drink mine with some coffee cream. 
 Tully's Hawaiian Blend K-Cups are available at Green Mountain Coffee, grocery stores, national retailers like Bed Bath & Beyond and club stores like Costco. Check out the Tully's website to learn more about their brand and Tully's coffee!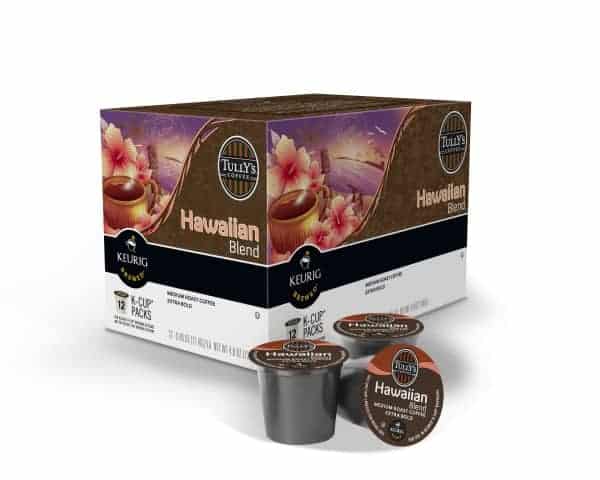 Reader Discount
Save 15% off  your purchase at Green Mountain Coffee , plus free standard shipping on orders of $30 or more with the coupon code: STOREWIDE8157. The coupon is valid until April 21, 2013.
Disclosure: I was not financially compensated for this post. I received a sample of the product for review purposes. The opinions are my own, based on my personal experience with the product.