Tommy Hilfiger "Douglas" Boys Boat Shoes Review
Boys are going to be stepping into the spring season in style with the "Douglas" boat shoes by Tommy Hilfiger. These fabulous shoes are very fashion forward yet quite functional for active boys. The Douglas is made with a faux leather upper (love the eco-conscious materials) with a round moc stitched toe. The shoe has a two eye lace-up front and the detailing is very nice with nautical lacing details around the collar of the shoe.
My five year old son loves his Tommy Hilfiger Douglas boat shoes which are made in a lovely shade of navy blue with brown accents. I ordered the shoes in his normal size (size 1) and it fit perfectly with a bit of extra room for his feet to grow. He is a very active little boy so these shoes are perfect with a traction outsole to ensure that he can move around without slipping and sliding. The textured lining with cushioned insole is very comfortable for all day wear on his outdoor adventures. In fact, he likes wearing these shoes so much that he asks to wear this pair instead of his favorite sneakers saying it "feels better on my feet".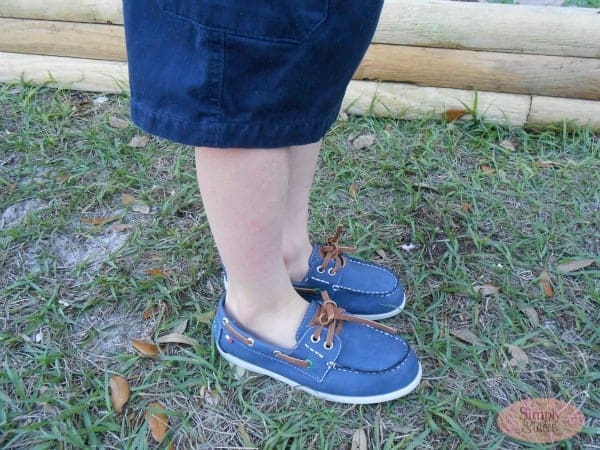 I normally try to save on my children's wardrobe whenever possible but the one investment that I think is worth every penny is a good pair of comfortable shoes designed specifically for children and these shoes fit that need perfectly. The Douglas boat shoes by designer, Tommy Hilfiger is available in boys' whole sizes from 13-5. You are invited to head over to Shoes.com to select this shoe style for the suggested retail price of $44.99. There are lots of great styles of shoes to choose from for women, men, girls, boys and juniors at Shoes.com. I love that this website offers free shipping on these shoes and other styles too!
Connect with Shoes.com on Facebook and Twitter!
Disclosure: I was not financially compensated for this post. I received a sample of the product for review purposes. The opinions are my own, based on my personal experience with the product.