Tag Along Teddy® Review
What child will be able to resist the Tag Along Teddy® backpack….certainly not mine! This adorable line of plush backpacks are sure to be a hit with young boys and girls and come in character styles such as Kai the Koala, Mister Monkey, Diggity Dog and Timit Tiger.
What makes Tag Along Teddy so unique and special? These backpacks are made a removable stuffed animal so kids can take their friend along on all of the adventures. There are two sizes available including small for short treks and a larger size that doubles as the perfect carry on bag.
These plush animal backpacks are so cute and I love the fun detailing that really makes these critters "come to life" for their new human companions. My daughter adores the Little Timit Tiger Backpack ($21.99) which has a zippered closure and rests comfortably on her shoulders. In it she can store her most treasured belongings to take along with her when we head out. The bags are designed to be durable and user friendly for even the youngest children (pre-school and up) to be able to open and close. It is made of polyester and can be machine washed so no worries for mom if the backpack gets dirty.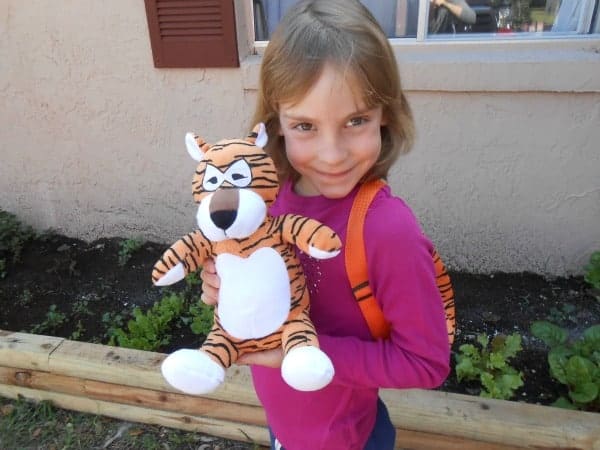 I asked my six year old daughter what she loves the most about her Little Timit Tiger Backpack and she replied, "Timit is my buddy and I like that he can go anywhere with me and I can put my favorite things inside him too".
Tag Along Teddy® is a wonderful gift idea for young children and I think that the selection of characters is absolutely adorable…..my favorite is the Mister Monkey! You can also accessorize with coordinating book covers and caps too.
You are invited to visit the Tag Along Teddy® website to pick out your favorite plush backpack character….which one would your little one like the best? Products are available for purchase online in their shop or it is also online at Sears and Kmart too.
Disclosure: I was not financially compensated for this post. I received a sample of the product for review purposes. The opinions are my own, based on my personal experience with the product.