Spring Cleaning Your Desk with Staples & AIR MILES
I find that my productivity increases when my work environment is organized and de-cluttered. When I used to work outside the home as an accountant in Edmonton, I designated a half hour every Friday to tidy up my desk. I found if I stayed on top of the clutter, it would never get too bad. Now that I work from home, I try to keep my desk organized. More organization equals less stress and better productivity for me.
There's so many organizational products out there that can help you organize your workspace both at home and at the workplace. Staples is my go-to store for all my office supplies and organizational products because they have a large selection and good prices. And now Staples accepts AIR MILES! I saw the flyer come to my door late last week and I was really excited to see that I would be able to receive AIR MILES on all my purchases. I've been a collector since 1998 and my Grandma June was the one to introduce me to the program. She's no longer with us unfortunately. Each time I use my AIR MILES card, I smile and think of her.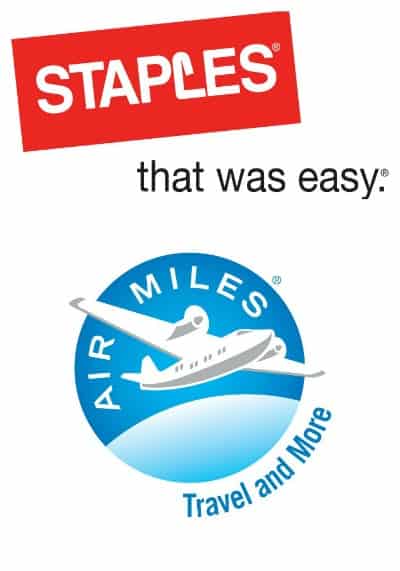 At Staples, you can earn AIR MILES on your purchases both in-store, through the catalogue and online. During the launch from March 6 to 10th, you can earn five times the reward miles on purchases of $50 or more. If you are planning to do some spring cleaning and organizing of your home office, this is a great opportunity to shop and earn some extra AIR MILES! I use my AIR MILES to get free groceries at Sobey's! There's a ton of different ways you can redeem yours (travel, gift cards, merchandise, etc).
Staples & AIR MILES recently commissioned a survey that revealed that 83% of Canadians agree that a cluttered or disorganized workspace negatively affects productivity. I'd have to agree with that! Yet, 26% of Canadians say that their own desk is cluttered. I think having an organizational system in place certainly helps you stay organized although I often fall into the clutter trap myself.
To help Canadians get organized this Spring, Staples and AIR MILES are working with Interior Designer and Organizational Expert, Lucie Pitt. She's provided helpful tips on how you can get your desk organized.
I want my desk to go from a cluttered mess like this one…
To an organized oasis as shown here…
The tips below will help me (and you) do just that!
Five Simple Solutions to Maximize Your Workspace
1. Clear Out! – Clearing space on your desk will send calming messages to your brain and help you work more efficiently.
• When faced with heaps of files, start with a desk-top solution like a Martha Stewart Stack + Fit Desk Organizer, found exclusively at Staples. The various components are easy to customize to meet your needs, taking up minimal space because they stack.
• Your walls can also provide an attractive filing option thanks to the Martha Stewart Large Shagreen Double File Pockets. They keep valuable notes at a stylish arm's length.
• Wall-mounted message boards and calendars now come in fun and funky styles, so deadlines and reminders can be front and centre. Wall Pops Message Boards and Calendars are convenient options that cling – no hammer required!
2. From the Desk to the Floor – A floor lamp not only saves space on your desk, but provides a nice homey feel to your office environment with soft lighting. Staples has a variety of floor lamps that still mean business while shedding light on the new, organized you.
3. Get Your Technology in Order – Adding a monitor riser is an easy way to gain extra space and help your body too. Elevating the monitor helps to improve posture while creating a handy little spot to tuck away small items. And consider a sleek charging station for all your gadgets, like the Belken Conserve Valet. It offers multiple docks, so in addition to being fully charged, your gadgets will be neatly organized and easy-to-find.
4.File or Shred. Don't Pile and Dread – Invest in a small, two drawer filing cabinet on wheels and tuck it away when not in use. And if you don't need to file something… don't! Have a shredder on hand to get rid of sensitive documents or use Staples in-store shredding service available in their Copy and Print Centre. During the AIR MILES launch period, half-bin shredding will earn 5 bonus AIR MILES while a full-bin shred will get you 10 bonus AIR MILES.
5. Save Space for Your Personality – "A tidy desk doesn't have to be devoid of personality," says Pitt. "The easiest way to bring a bit of yourself to your space is through photographs in clear frames to keep the lines clean." You can also spruce up your space with funky file folders, available in a variety of patterns and colours.
My favourite is number 4. I'm bad for leaving piles and then not be able to find anything! I'll be taking action this Spring and put Lucie's tips to use. I've got a few products from Staples on hand and I'm ready to get my desk organized.
Disclosure: I was not financially compensated for this post. I received a gift basket as compensation. The opinions expressed are my own.