RoomMates Wall Decals Review
I love wall decals. I love being able to decorate my boys' rooms with their favorite characters and interests without worrying about nails and picture hangers. I like that as their tastes change we can easily switch out decals without doing damage to the walls. It makes them happy to see their favorite things in their rooms, and it makes me happy to see them happy. I love a site that offers a lot of variety for my boys (and for me too!), which is exactly what RoomMates Wall Decals does.
I received a set of Sesame Street Scribbles Wall Decals for review. My little guy Noah is a fan of Elmo and friends and I thought these would look nice in his room. The process of decorating with these decals is as easy as peel and stick – which is exactly what we did! My husband (who is the official decal guy in our house!) remarked about how he could really feel the great quality of these decals compared to others we have. He really thought the thickness was perfect, making the decals easy to peel and hang. I think they look great against the yellow walls in Noah's room and he gets a kick out of seeing the characters on his walls. I like the way they look and I like that if/when Noah is no longer into Sesame Street I can simply remove them and use them in the playroom or even hand them down to my younger nephew who may just be getting into Sesame Street at the time Noah outgrows them. The Sesame Street Scribbles decals retail for $14.49 on the RoomMates site.
Designed and produced in the US, RoomMates is a spin-off York Wallcoverings – the oldest and largest wallpaper manufacturer in North America. On its own, RoomMates has grown to become the largest wall decal manufacturer in North America. They contribute their success to great quality, great prices and great designs, including official licensed designs from Disney, Star Wars, DC Comics and more. Their site is easy to search with categories such as Nursery, Disney, Growth Charts, Chalkboards, Kitchen and Bath, etc. – there's something for everyone!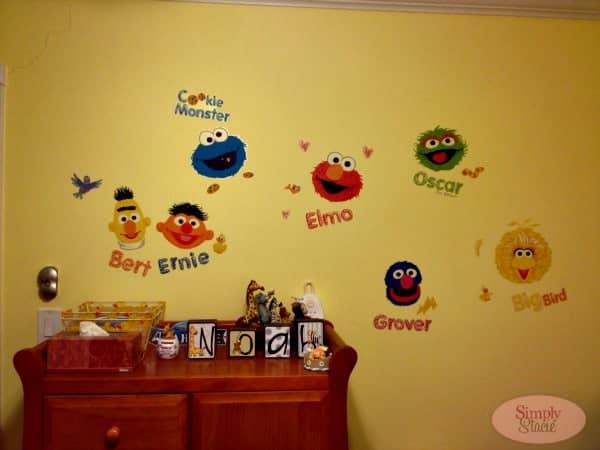 You can see the full line of RoomMates decals on their website. You can also find them on Facebook, Twitter, and Pinterest. If you have an idea for a wall decal design you think would be great as part of the RoomMates line-up, you can make some money by sharing your idea with them.
Disclosure: I was not financially compensated for this post. I received a sample of the product for review purposes. The opinions are my own, based on my personal experience with the product.