Pur Minerals Beautiful Creatures Makeup Collection Review
Did you see the movie, Beautiful Creatures, when it hit theatres last month? I really wanted to, but poor weather prevented us from making the hour long drive to the closest theatre. I already own the book and it's on my TBR (To Be Read) list.
The movie is described as "A supernatural love story set in the South, "Beautiful Creatures" tells the tale of two star-crossed lovers: Ethan (Alden Ehrenreich), a young man longing to escape his small town, and Lena (Alice Englert), a mysterious new girl. Together, they uncover dark secrets about their respective families, their history and their town."
I'm a huge fan of paranormal romance and can't wait to see it. I'll have to buy it when it comes out on Blu-ray and hopefully by then I will have also read the book
Pur Minerals has created a Beautiful Creatures beauty palette inspired by the movie! It includes eight 8 eyeshadows, eyeliner and lipgloss. The eyeshadows are a mix of light and dark shades including:
Secret (Pink)
Spellbound (Neutral)
Supernatural (Nude)
Siren (Moss)
Cursed (Plum)
Fantasy (Violet)
Forbidden (Taupe)
Fate (Mushroom)
The eyeliner is called Black Magic and it's a charcoal colour while the Lip Gloss is called Lust and it's raspberry.
I like the darker colours like Forbidden (a rich shimmery brown) and Fantasy (a dark purple). However, when I did the short quiz to see whether I was on the light or dark side, it said I was Light. Find out if you are Light or Dark on the Beautiful Creatures Facebook page.
I used the darker colours of the set since I wear thick glasses that make my eyes look smaller and wanted to make sure they would stand out. I used a combination of Forbidden and Fantasy on my eyes. I also wore the Black Magic eyeliner and the Lust lip gloss. The lip gloss is a light pink and just gives your lips a stain of colour and lots of shine. I already use a few of Pur Minerals other products and especially love their mineral foundation.
Olivia selected Spellbound for her eyes. It's the lightest shadow of the palette. She also does not wear eyeliner so she left that off.  She has just a little bit of the Lust lip gloss on. It's a subtle and pretty look for her.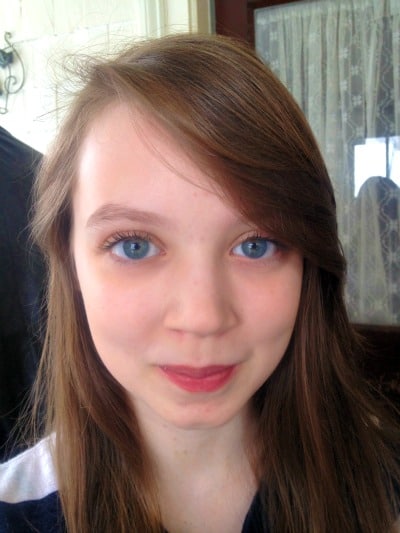 This video demonstrates how to get the light look (with a hint of danger!) inspired by the character, Lena.
The Beautiful Creatures Beauty Palette is a great price of $39 ($100 value) and you can find it at ULTA Stores, Shopper's Drug Mart and online at Pur Minerals.
Disclosure: I was not financially compensated for this post. I received a sample of the product for review purposes. The opinions are my own, based on my personal experience with the product.