Potomac Products Health Line Vitamins Review
My family and I eat as healthy a diet as possible and include a variety of natural vitamins and dietary supplements on a daily basis.
I recently discovered a private label vitamin and nutritional supplement distributor, Potomac Health which offers 100% natural vitamins, herbal supplements and dietary supplements. I learned that this company was developed by a Radiation Oncologist who is a proponent of preventative medicine. This meshes perfectly with my philosophy that the best approach to keeping my family healthy is to have a solid preventative foundation in place.
There are several vitamins and dietary supplements that my various members of my family and I are using currently including Joint Health, Antioxidant, Cleanse, Multivitamin, Brain Support and Omega-3 and Prostate.
My 40 year old husband is currently using the Prostate ($3.89/60 count) formula which contains zinc, manganese and copper to support men's health needs. He also has a chronic shoulder deformity which has caused significant joint degeneration so he is using the Joint Health ($6.27/60 count) with Chondroitin, Glucosamine and Vitamin D3. He prefers this formula to his pervious brand because he only has to take two tablets in the morning instead of six tablets.
At least three times a year, I like to complete a body cleanse and therefore, I used the Cleanse formula from Potomac Products. It is designed to help "naturally eliminate waste products" using Psyllium powder, Slippery Elm Bark, Aloe Vera Lear Powder, Acai Berry, Black Walnut Hulls Powder, Ginger Root and other quality ingredients. I like that it worked without causing any abdominal discomfort such as major bloating, gas etc.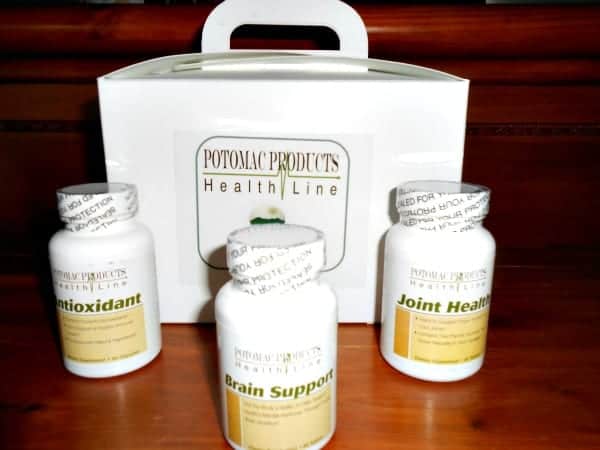 I am also using the Antioxidant ($5.03/60) formula with Green Tea, Acai Berry, Hawthorne Berry (a personal favorite), Goji Berry, Pomegranate and more natural ingredients. My father recently passed away from cancer as did another close family member so I am very conscious of maintaining a healthy lifestyle and both natural antioxidants from food and in supplement form is one way that I am doing all that I can to have a strong immune system.
I really like the Multivitamin ($3.55/30) because it contains 100% of the RDA of the vitamins and minerals as opposed to mega-doses which I try to avoid. Both my husband and I take this every morning after breakfast and I do not have any problems such as nausea. As a bonus, a serving is only one caplet!
The Brain Support ($4.85/60) is designed to help support "mental alertness" (which I definitely could use) and I do notice a difference after taking this product once a day in the morning after breakfast for two weeks.
Finally, one supplement that I highly recommend personally for my entire family is a good quality Omega. The Omega-3 ($6.50/60) product contains fish oil fatty acids. I didn't notice any of the unpleasant side effects of use that I have with other brands i.e. the dreaded fish aftertaste.
I am very surprised at the low pricing of the vitamins and dietary/herbal supplements available at Potomac Products Health Line. All of the vitamins and supplements from this review are currently available for purchase online at the Potomac Products website and you are invited to browse the entire product line.
Disclosure: I was not financially compensated for this post. I received a sample of the product for review purposes. The opinions are my own, based on my personal experience with the product.