Disney's Oz the Great and Powerful Film Review #DisneyOzEvent
Ever since I found out a prequel to The Wizard of Oz was in production with Disney, I was both elated and nervous. Elated because I have been wishing on every shooting star since I discovered the Oz books by L. Frank Baum that a film company would remake The Wizard of Oz (and make it true to the books!), and nervous because there was the slight chance my heart would get broken and I would not like the movie. (No broken heart here; I loved Oz the Great and Powerful!)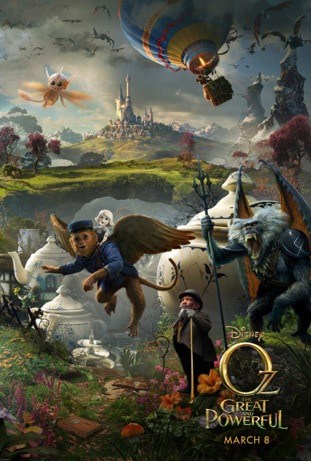 Disney's Oz the Great and Powerful arrives in theaters today, but I was given the incredible gift of being able to see it weeks early. Sam Raimi (known for the Spider-Man trilogy and the Evil Dead series, to name a few) was the director of Oz the Great and Powerful, and now having seen the film, I cannot imagine it having fallen into anyone else's hands. The screenplay, which was written by Mitchell Kapner and David Lindsay-Abaire), is also an homage to the 1939 film in so many ways; if you are a true The Wizard of Oz films, I'm sure you'll be able to catch all of the obvious details as well as the subtle ones.
Oz the Great and Powerful is the story of Oscar Diggs (James Franco), an ambitious traveling magician who puts his desire of being a great and rich man ahead of being a good man. When he's first introduced, Oscar is coaching and romancing his ditzy assistant for their upcoming show. He is immediately unlikable, though I could not help but fall under his charming spell. Oscar proves that there is more to his character when he is shown with his longtime friend, Annie. It is at this moment when I began to care about Oscar, allowing myself to see him through Annie's eyes.
Oscar's meeting with Annie is cut short when the Strongman (Tim Holmes) arrives at his quarters to angrily confront him about his various dalliances. Oscar's only way out is in the hot air balloon, which gets swept up in a tornado. Begging for a second chance, Oscar vows he will become a good man if he makes it through the storm alive.
When the storm calms, Oscar finds himself in a colorful, foreign new world where he is greeted by the naive and beautiful Theodora (Mila Kunis). Entranced by her beauty, Oscar is willing to tell her whatever she wants to hear, even agreeing he is the prophesied wizard who has come to the land of Oz to save it from the clutches of a wicked witch.
There is truly never a dull moment in Oz the Great and Powerful; I also loved that I never knew quite what to expect. I'm very familiar with the 1939 MGM classic as well as Disney's 1985 Return to Oz. I've also read a number of the original books written by L. Frank Baum in the early 1900s and I am very pleased with how Disney remained true to the spirit of those books. I've been saying for years that I will finally sit down and read all original fourteen novels written by L. Frank Baum himself; this is going to be the year that it happens.
There are three characters in Oz the Great and Powerful that exceeded my expectations. I'm a sucker for talking animals, so I knew that Finley the flying monkey (voiced by Zach Braff) would own my heart–and he did! Finley also provides comic relief in several instances, and it was fun to learn that many of the lines were improvised. Secondly, I loved China Girl (voiced by Joey King). Several of my favorite Oz scenes in the books involved someone from the Dainty China Country. My heart really went out to China Girl, and my first purchase in the Disney Store after seeing the film was an adorable figurine of China Girl. Lastly, I loved Glinda. In the 1939 film, she is a fairly one-dimensional character. Oz the Great and Powerful added so many layers to her. She's not invincible, and even the great Glinda needs a little bit of teamwork to get out of rough situations.
Oz the Great and Powerful has been assigned a PG rating due to some scary action scenes. I think it is up to every parent to decide for themselves if it is suitable for their child to watch. If your son or daughter is interested in Oz the Great and Powerful, I recommend a mommy/daddy date to see the film first. You know your children best and will instantly know if they can handle some of the more frightening imagery. As for my daughter, I plan on showing her the trailers and multiple clips from the film to gauge her interest. I'm pretty confident I'll be taking her to see Oz the Great and Powerful opening weekend. I hope you'll do the same, whether it's a "parents only" night, or a family outing with your older children.
"Like" OZ THE GREAT & POWERFUL on Facebook
"Follow" OZ THE GREAT & POWERFUL on Twitter
Visit the website
OZ THE GREAT AND POWERFUL lands in theaters on March 8th! 
*Disney provided me with an all expenses paid trip to Los Angeles to attend the red carpet premiere and participate in cast and crew interviews. No financial compensation was received in exchange for this post.*