Celebrate the 15th Anniversary of Disney's Mulan on Bluray/DVD March 12th Bluray Combo Review #DisneyOzEvent #Mulan
Can you believe Mulan is celebrating its 15th anniversary? On March 12, 2013 Mulan makes its debut onto Blu-ray and DVD in a 3-disc collection. The 2005 direct-to-DVD sequel, Mulan II, is also included in this set, and concludes the romantic love story of Mulan and Shang.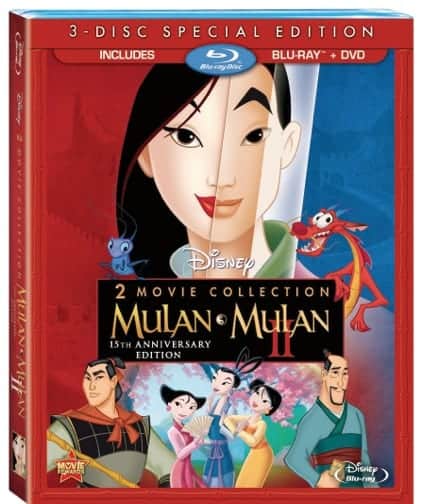 Mulan
Adapted from the ancient Chinese legend of Mulan, Disney's Mulan is the tale of a young maiden who disguises herself as a man and takes her father's place in the army to restore honor to her family. Mulan embarrasses her mother while visiting the town Matchmaker, and later on dishonors her father when she attempts to stand up for him and insists he should not go off to war. Mulan slips off into the night with her father's sword and shield and masquerades as "Ping" under Shang's command.
While training with Shang's men, Mulan makes one mistake after another. When Shang sends her home, she is more determined than ever to prove herself to him. Eventually Mulan gains Shang's respect and even saves him and his men from the Huns. When Mulan is injured, Shang discovers she is a woman. He spares her from death because she saved him, and once again sends her home. Though they think the Huns have been defeated, Mulan learns they are alive. This time, it is China's beloved Emperor that Mulan must save, and she will only be able to save him and all of China if Shang will help her.
I'm so happy that Mulan is finally out of the Disney vault! Somehow I missed adding this to my Disney collection when it was first released. I remember seeing this in theaters when I was sixteen, and falling head over heels in love with Mulan, Shang, Mushu, and all of the characters. Mulan is a Disney heroine that is a great role model for little girls; she doesn't conform to her society's expectations for women, and proves that she can do anything a man can do.
It was interesting watching Mulan through an adult's eyes. I was just a teenager the first time I saw it, and now I am a parent. I showed my 4-year-old daughter the film, hoping she would enjoy it. I think she's not the right age for it yet, and am thinking when she is it will be a good teaching tool when she begins to learn about the various wars that have happened around the world. When watching carefully, viewers will feel the devastation of the Chinese people through some very well done scenes that are appropriate for all ages. The music of Mulan also sets the tone for those moments. Seeing this movie again after all of these years has renewed my interest in world history, and has made me want to seek out the original legend of Mulan to see what changes Disney may have made to it for their adaptation.
Mulan II
I had almost forgotten there was a direct-to-DVD sequel to Mulan. I'm happy it was included with Mulan since I had never seen it before. I think it was a smart decision on Disney's part to offer them together.
Mulan II takes place shortly after the events of the first film. Shang is now a general, and he and Mulan are engaged. The Emperor requests them for a special mission: they are to escort his three daughters to another kingdom, where they are to marry for duty to unite the kingdoms. Mulan, who believes one should marry for love, cannot understand why they would agree to this.
Mulan's three lovable soldier sidekicks from the first film are back. They still haven't found their true loves, but I'm pretty sure you will guess what happens when they see the daughters of the Emperor. Meanwhile, Mulan's guardian dragon Mushu is meddling in her relationship with Shang and causes them to break up for selfish reasons. When the group is ambushed by the Mongolians, tragedy strikes and Mulan must think fast so everyone can have their happy ending.
I did not enjoy Mulan II as much as I liked the first one, though it does revisit some of the same themes from the first film. Mulan II seems to be more accessible to younger children; my daughter was actually more interested in Mulan II, probably because there are some very funny scenes involving the soldiers and the Emperor's daughters.
Most disappointing for me was Mushu; though he ended up redeeming himself and saving the day, he was incredibly selfish and awful to Mulan throughout most of the movie. Some of his actions (and their consequences) pulled a strong reaction from me, so the movie was effective in that way. I loved the ending, however, and the positive message that even two very different people can find common ground–and true love.
Bonus Features
(Mulan) Audio Commentary You can choose to watch the movie with commentary from Producer Pam Coats and Directors Tony Bancroft and Barry Cook for a behind-the-scenes look on Mulan.
(Mulan) Deleted Scenes Tony Bancroft introduces seven different scenes that didn't make it into the final cut. The scenes are not fully animated, but are instead storyboarded with audio from the voice actors and actresses. Several scenes include some deleted songs as well.
(Mulan) Classic Backstage Disney These features were on the original DVD release: Mulan's Fun Facts, The Journey Begins, Story Artists' Journey, Design, Production, and Digital Production.
(Mulan II) Classic Backstage Disney: Voices of Mulan The director and voice actors from the sequel talk about their characters and the plot of Mulan II.
(Mulan II) Deleted Scenes Four scenes that had to be removed for various reasons. The director introduces the scenes and explains why they were removed.
(Mulan II) Classic Music & More: Music Video by Atomic Kitten Atomic Kitten performs "(I Wanna Be) Like Other Girls". The entire music video is comprised of scenes from Mulan II.
* I was not financially compensated for this post. I received a sample of the product for review purposes. The opinions are my own, based on my personal experience with the product.*