Maggie Bags Review
Did you know that every year millions of yards of seat belt webbing are rejected by the automotive industry destined for the landfill?
In 2009, Maggie Bags launched a line of stylish, functional bags made from this same seat belt webbing…..what an exceptional way to repurpose!
Maggie Bags has a variety of fabulous styles and gorgeous colors to choose from including bags, totes, wallets, key chains, a travel cosmetic bag and even belts!
Perfect for spring, the Campus Tote ($85) in Hot Pink is a stunning bag that I have been taking everywhere instead of my normal purse. The vibrant color is absolutely beautiful and has received lots of compliments. The purple satin lining gives it even extra depth and richness and it is functional too with features such as a zippered pocket, cell phone pocket and a key pocket to keep everything organized. The attention to detail is very nice with four-nickel plated feet on the bottom of the bag. I appreciate that the tote is quite spacious and I can put in all my essentials along with my favorite book and even my Kindle with extra room to spare. I am very impressed with the quality and attention to detail in my Campus Tote as well as how durable it is offering long lasting value.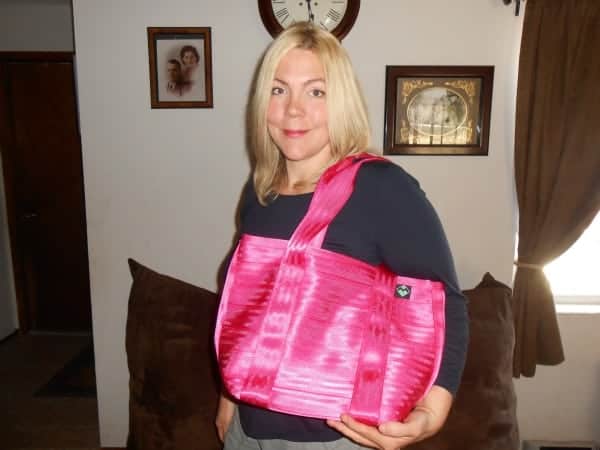 There are other stylish bags available including another of my favorites, the Butterfly Bag, the Travel Trio Bundle, the Leconte Messenger Bag and the Cicily Tote. You are invited to visit the Maggie Bags website to browse the entire collection of beautiful bags and feel good knowing that you have helped repurpose seat belt webbing that ultimately would have never been used. There are Maggie Bags in lots of different styles, colors and patterns so you are sure to find the perfect bag to add to your collection. Warning….it will be hard to narrow it down to just one bag because there are so many beauties to choose from at Maggie Bags!
Disclosure: I was not financially compensated for this post. I received a sample of the product for review purposes. The opinions are my own, based on my personal experience with the product.