Life of Pi Blu-ray/DVD Combo Review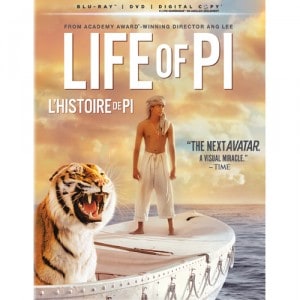 Title: Life of Pi [Blu-ray]
Synopsis:
Embark on the adventure of a lifetime in this visual masterpiece from Oscar Winner Ang Lee, based on the best-selling novel. After a cataclysmic shipwreck, young Pi Patel finds himself stranded on a lifeboat with only one other survivor- a ferocious Bengal tiger named Richard Parker. Bound by the need to survive, the two are cast on an epic journey that must be seen to be believed.
Bonus Features: 
Life of Pi in High Definiton
A Filmmaker's Epic Journey
A Remarkable Vision
Tiger, Tiger Burning Bright
Art Gallery
Storyboards
My Review: 
Life of Pi is a beautiful movie. The story is both intense and heartwarming, but I think my favourite aspect is the special effects and gorgeous cinematography. I've never seen a movie quite like the Life of Pi before. It was truly something special.
The movie begins with the main character Pi Patel telling his life story to a man over dinner in his home. We learn that Pi grew up in the French part of India with his parents, older brother and the family owned a zoo. Pi is short for Piscine which is French for pool. His uncle had a thing for pools and would swim in every pool he came across. There was a public pool in Paris with the clearest, most pure water called Piscine Molitor. Pi was named after that pool. However, the school children teased him so he shortened his name to "Pi". 
When Pi is a teenager his parents decide to move to Canada. They take a ship over with all their belongings and their animals from the zoo. One night on the ship, Pi hears the sound of a thunderstorm and wants to go outside to experience it. Tragedy strikes though and the ship fills with water and Pi's family is trapped in their room. I think the shipwreck scene is one of the most powerful scenes of the movie and possibly the most profound shipwreck scene I have ever witnessed. The waves, the rain and the anguish of Pi realizing his family is lost to him forever had me biting my nails in trepidation. Bridget watched it with me and wasn't paying much attention to the movie until that part. Then she sat so still and watched the rest of it with me.
Pi was a resourceful boy and learned to survive and adapt. His companion was a Bengal Tiger named Richard Parker who scared the daylights out of him. Richard Parker stayed on the lifeboat while Pi fashioned himself a small raft and only went on the boat for supplies. The lifeboat was stocked with supplies to survive as well as a journal and pencil. Pi wrote in it every day until the pencil was completely gone. He said that having Richard Parker around gave his life purpose because he had to tend to his needs. He didn't want Richard Parker's last meal to be a "skinny vegetarian boy".
It was so touching to watch Richard Parker and Pi interact towards the end. Pi always believed that animals had souls despite what his father says and in this movie, we see that indeed they do have souls. 
I bet this movie would have been spectacular to watch in 3D.  The sheer beauty of some of the images caught my breath in a few instances. Life of  Pi left an impression on me as a  film I will not forget anytime soon.
Disclosure: I was not financially compensated for this post. I received a sample of the product for review purposes. The opinions are my own, based on my personal experience with the product.