An Interview with Oz the Great and Powerful's James Franco #DisneyOzEvent
In Disney's Oz the Great and Powerful, James Franco plays Oscar Diggs, a traveling magician who is swept away to the land of Oz in a tornado. Once he arrives, he is mistaken as the great wizard mentioned in a prophecy. Oscar then sets out to become that wizard to save the people of Oz from a wicked witch.
In order to play a believable magician, Franco had to train as one. "I trained with a Vegas magician, Lance Burton, and he showed me a lot of the secret tricks and I got pretty good at it." Unfortunately, several of the magic routines did not make it to the final cut. In addition to what's shown at the beginning of the film while Oscar is still in Kansas, Franco can also make doves appear out of thin air and pull rabbits out of hats.
Franco had a personal connection to the original The Wizard of Oz before becoming the wizard. "When I was a boy–that was the days before Harry Potter was around–I read all of the L. Frank Baum Oz books on my own. They were some of the first books I read for pleasure outside of school." He could even recall the name of the independent bookstore, The Printer's Ink, which displayed all of the books in the series. "I remember just like getting excited seeing all of them and, you know, going through each one. So that was my Harry Potter, I guess."
James Franco has worked with Oz the Great and Powerful director Sam Raimi before, and we wanted to know how his experience on this film was different than working on Spider-Man. "The thing I've learned about Sam Raimi is that he identifies with the characters in a lot of his films. And so when we did the Spiderman films, he identified it with Peter Parker." In Spider-Man, Franco played Harry Osborn, a foil to the character of Peter Parker. "I felt like I was not getting the full sunshine of his love because I was playing the character that was trying to kill his alter ego." In Oz the Great and Powerful, Franco recognizes several traits that Oscar and Sam have in common. "Sam…has a nerdy side and a childlike side, but he also…can be a little bit of a trickster, I guess. In addition to that, Oz is an entertainer…he creates illusions to entertain people, and that's exactly what Sam does."
When asked who his favorite witch was to work with, he said, "That's a hard question. You're gonna get me in trouble!" He had nothing but positive things to say of all of the women in the film. "They're some of the best actresses alive. We're very fortunate to have all of them, and they're all very different…but the roles are very different. So each one, you know, was enjoyable but…a very different experience."
Franco described Sam Raimi as a very collaborative director. Franco had the freedom to go beyond the script and add personality to the character of Oscar. "Everyone is welcome to bring things to the table. And so with the character Oz, not only did we rehearse in advance two weeks of the film, we rehearsed throughout the film." Franco recalled never having a lunch break to himself. "I was spending all my lunches going over the script and the scenes with Sam and the other actors, and through that process, I think the character of Oz changed quite a bit."
In addition to working with three very different witches, Franco also worked with two CGI characters, China Girl (Joey King) and Finley (Zach Braff). He said that he shared some of his favorite scenes with those two characters. "They were just great characters and great kind of oddball sidekicks to have in the land of Oz." Working with CGI characters is nothing new for Franco, who worked with Andy Serkis (Gollum) on The Rise of the Planet of the Apes. "Filmmakers and actors are getting more and more used to it," he said in regards to CGI become more and more common in films. For China Girl, Franco also acted with a puppet. He would hear Joey King's voice in his ear as would the puppeteer, who would then make the puppet react to what she was saying.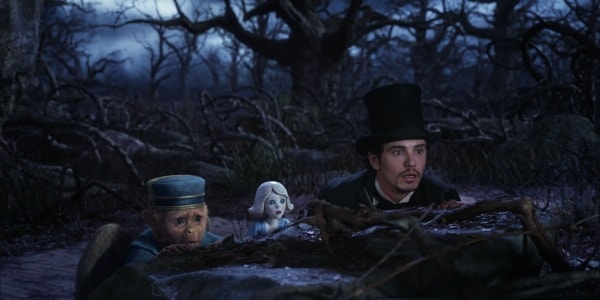 Franco also pursues academic interests. He not only attends classes, but also teaches them. We wanted to know how he manages to do all that he loves and still finds time to sleep. "My job is what I love so I don't need a relief from it…I just kind of move from project to project because it's how I enjoy life…it seems like I'm doing a lot of things but it's really just because I fill all of my time with these things rather than half of my time…but I sleep about six hours a night."
"Like" OZ THE GREAT & POWERFUL on Facebook
"Follow" OZ THE GREAT & POWERFUL on Twitter
Visit the website
OZ THE GREAT AND POWERFUL lands in theaters on March 8th!
*Disney provided me with an all expenses paid trip to Los Angeles to attend the red carpet premiere and participate in cast and crew interviews. The image used in this post is used with Disney's permission. No financial compensation was received in exchange for this post.*