Ezekiel 4:9 Flax Sprouted Grain Bread Review
I have been eating Ezekiel 4:9 bread from the Food For Life Baking Company almost exclusively for almost two years. I was very excited to learn that Food For Life Baking Company has added a new product to their organic sprouted grain line i.e. Ezekiel 4:9 Flax bread!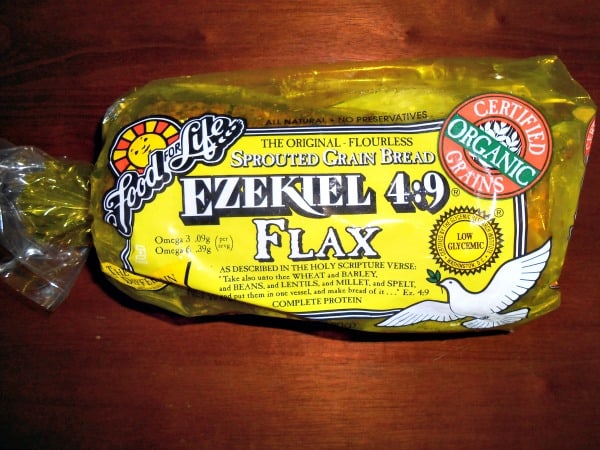 I have chosen Ezekiel bread products for my family because it is made with sprouted whole grains and it is high in fiber. I try to avoid all processed foods from our diets, especially for my daughter, Hannah who has severe asthma and other respiratory issues. Feeding her the most nutritious whole foods helps to keep her immune system functioning at its best and it is excellent for my growing boys too. For me personally, I am able to continue my weight loss journey while eating this bread as part as it is low-glycemic and it is even diabetic friendly.
Ezekiel 4:9 Flax Sprouted Grain is superb and tastes absolutely delicious as it is 100% flourless and is made from organic sprouted wheat, organic sprouted flax, organic sprouted barley, organic sprouted millet, organic sprouted lentils and more natural ingredients. Each slice has 4 grams of fiber and 5 grams of protein with only 80 calories and 90mg of Omega 3 and Omega 6 which are good fats for the body.
This bread was created according to the company to be of the likeness of the Holy Scripture verse in the Bible i.e. "Take also unto thee wheat , and barley, and beans, and lentils and millet, and spelt and put them in one vessel…." I love that it is so hearty and nutritious, a bread that I can be proud to serve my family!
This bread is very satisfying and is quite filling. I love that it is rolled in organic flax seeds giving it an appealing texture and appreciate that there is nothing artificial, no refined sugars and there are absolutely no preservatives. Surprisingly, my "white bread loving" husband actually stated that this is "the only healthy bread I have ever tasted that is really delicious" when asked how he liked it.
My children enjoy eating this bread toasted with just a touch of organic butter and maybe some homemade bread. I love to eat a slice of this bread in the morning with a poached egg…..delicious and it keeps me filled until lunchtime. For my husband, he likes it as the bread for his sandwiches and it makes an awesome grilled cheese!
Ezekiel 4:9 is just as good as any artisan bread that I have ever tasted yet it is conveniently packaged so you can keep it in the freezer and take out slices as you need it to preserve the freshness. You can leave it on the shelf for up to 5 days or in the refrigerator for two weeks if you prefer but I find the best way is to keep it in the freezer personally.
The Food For Life Baking Company has a wide variety of baked products breads, buns, cereals, English muffins, pasta, tortillas and more. You are invited to visit the company website to learn more about all of the delicious Ezekiel breads and more. This product is available for purchase at leading grocery stores and you can use the store locator to find this line nearest to you.
Disclosure: I was not financially compensated for this post. I received a sample of the product for review purposes. The opinions are my own, based on my personal experience with the product.