Easter Parade Blu-ray Review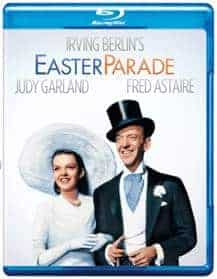 Title: Easter Parade [Blu-ray]
Easter Parade is now available for the first time for its 65th anniversary on Blu-ray!
About the Movie:
If you can't join 'em, beat 'em! When his long-time dance partner abandons him for the Ziegfeld Follies, Don Hewes decides to show who's who what's what by choosing any girl out of a chorus line and transforming her into a star. So he makes his choice and takes his chances. Of course, since Fred Astaire portrays Don and Judy Garland plays the chorine, we know we're in for an entertainment sure thing.
Bonus Features:
Commentary by Ava Astaire McKenzie and John Fricke
Easter Parade: On the Avenue
American Masters- Judy Garland: By Myself
Mr. Monotony Outtake
Mr. Monotony Dailies
Radio Promo (Audio only)
3/11/1951 Screen Guild Theater Broadcast (Audio only)
Theatrical Trailer
My Review:
Let me start by saying that I haven't watched many older movies like this one. Easter Parade was made in 1948 and stars Judy Garland (who I know from The Wizard of Oz) and Fred Astaire. I was curious to see if I would like it or not as I know many people have told me that they love old musicals from the 40s. I have to say that I thoroughly enjoyed Easter Parade and think I just may have been missing out all these years ignoring the films of long ago!
Fred Astaire is a dancing legend. The movie begins with him performing a tap dancing number and it reminded me of my tap dancing days. I was in dance for over 5 years during my teenage years. Mind you I was never as good as Fred Astaire. He's fantastic to watch and I couldn't take my eyes from the screen during the many singing and dancing scenes sprinkled throughout the film.
Judy Garland plays Hannah, a chorus line dancer at a local bar. Don (Fred Astaire) picks a girl at random to be his new partner whom he plans to turn into a star. His motive is to make her even bigger than his last partner, Nadine Hale. Judy Garland is so funny! I loved the part when her and Don are walking down the street and he is trying to teach her how to make the men look at her as they walk past. She walks a few steps a head and suddenly all the men's heads are turning as they walk past. Don is impressed! However, when the camera pans to Hannah's (Judy Garland) face, she is making a duck face. It's no wonder everyone was staring. That was a laugh out loud moment.
Easter Parade is also a love story. Hannah is falling for Don and thinks that he is not reciprocating the feelings. She still believes he has feelings for his old partner, Nadine.  There's a few tender moments when Don does finally express his feelings to Hannah and melts away her fears and insecurities. They make a great couple!
My daughters also really enjoyed Easter Parade. Bridget loved all the singing and dancing and Olivia was interested in seeing the fashion and how people dressed in the 40s. She noticed that all the women wore dark red lipstick.  Easter Parade is a wonderful film for the whole family!
Disclosure: I was not financially compensated for this post. I received a sample of the product for review purposes. The opinions are my own, based on my personal experience with the product.