Bright Starts Having a Ball Count 'n Roll Buggie Review
As my son gets closer and closer to turning two, he has become far more active in his play. He loves to try to figure out how things work and loves to repeat new words. The Bright Starts Having a Ball line features so many great products that appeal to my highly energetic and curious son!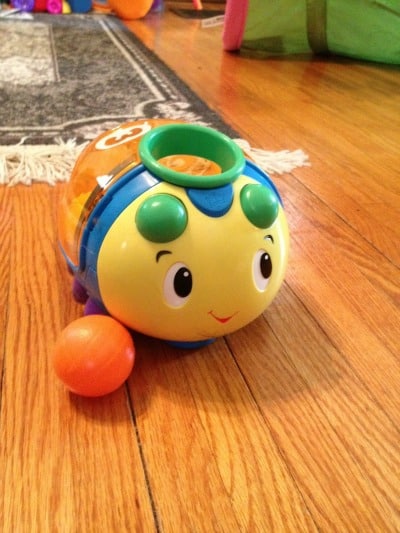 I was able to review the Bright Starts™ Having a Ball™ Count 'n Roll Buggie™ in Neutral ($17.99). My son was so excited to check it out that he tore up the packaging before I was able to get a picture of the product inside the box for this review. This cute little bug shaped toy uses 3 AA batteries (included) and comes with three balls. As you drop each ball into the bug, it counts to three. Then it begins playing fun songs and rolling all around on your floor (it works wonderfully on our hardwood floors). When the song ends, the wings open and the balls pop out onto the floor. My son absolutely loves it. He loves to load it up (we have other Having a Ball products so he puts the balls from those in there too) and watch it spin. He likes to take the wings off and try to figure out what makes the toy move around. He chases after the balls once they come flying out. I have rarely seen something hold his attention for longer than 5 minutes and he will happily play with this toy for 10 or more minutes. Yesterday I heard him "talking to it" and counting along as he placed the balls inside it. This toy is recommended for ages 6-36 months and definitely encourages interaction, movement and concentration.
The Count 'n Roll Buggie is sold in both Pink and Neutral at Target and Toys 'R Us carries just the Neutral version. This would make a great gift for the little one in your life!
Disclosure: I was not financially compensated for this post. I received a sample of the product for review purposes. The opinions are my own, based on my personal experience with the product.