The Twilight Saga: Breaking Dawn – Part 2 Review
Title: The Twilight Saga: Breaking Dawn – Part 2 [Blu-ray + Digital Copy + UltraViolet]
Release Date: March 2, 2013
About the Movie:
The Twilight Saga: Breaking Dawn – Part 2, the final chapter of The Twilight Saga, will be released on Blu-ray Disc (plus Digital Copy and Ultraviolet), 2-disc DVD (plus Digital Copy and Ultraviolet), Video On Demand and Digital Download on Saturday, March 2, 2013 from Summit Entertainment, a LIONSGATE company. Both the Blu-ray Disc and 2-disc DVD will feature hours of extensive bonus materials. The weekend street date allows for midnight events at retailers nationwide where eager fans will be lining up in anticipation of the finale's home entertainment release.
With the release of Breaking Dawn – Part 2, which has taken in an incredible $290 million in domestic box office so far, The Twilight Saga will become the top-selling home entertainment franchise since 2009, having already sold over 50 million DVD and Blu-ray copies to date. Driven by an unbelievably enthusiastic and loyal fan base, Stephenie Meyer's Twilight series has sold over 116 million copies worldwide while the global box office for the complete film series stands at over $3.3 billion, with Part 2 achieving the highest grosses of all with $821.8 million. In addition, the franchise now has eight separate Facebook pages dedicated to its stories and characters totaling nearly 80 million fans.
The Blu-ray and 2-disc DVD will include hours of bonus materials that are sure to satisfy even the most dedicated fans. A seven-part making-of documentary will provide an incredibly detailed behind-the-scenes look at how the finale of this epic series came together, including Bella's transformation, a global cast of vampires and the shocking climactic battle scene. The significant challenges of shooting Breaking Dawn – Part 1 and Part 2 back to back are exposed in the feature, "Two Movies at Once." Viewers will also be able to gain new insight into the making of the film with an audio commentary by director Bill Condon. "Jump to" features allow fans to watch only their favorite scenes in the film featuring Edward Cullen and Jacob Black. The Twilight Saga: Breaking Dawn – Part 2 arrives on Blu-ray Disc and 2-disc DVD for the suggested retail price of $39.99 and $30.98, respectively. The Twilight Saga: Breaking Dawn – Part 1 Extended Edition will also be available on March 2nd. Both releases will be available for pre-order on January 14th, 2013.
"The excitement of the worldwide sensation Twilight Saga's final chapter culminates with a massive home entertainment release that will reach fans and retailers nationwide," said Ron Schwartz, Lionsgate Executive Vice President & General Manager, Home Entertainment. "The Twilight Saga has changed the way studios and audiences look at the blockbuster, even altering how Hollywood rolls out its films. Making the home entertainment release as much of an event as the theatrical release, gives our passionate fans an opportunity to celebrate this much-beloved film all over again."
In The Twilight Saga: Breaking Dawn – Part 2, the birth of Bella (Kristen Stewart) and Edward's (Robert Pattinson) child brings conflict between Bella and her lifelong friend, Jacob (Taylor Lautner), and an all-out war between the Cullens and the Volturi.
BLU-RAY & DVD SPECIAL FEATURES
· "Forever: Filming Breaking Dawn Part 2" – Seven-part "making of" documentary
o Chapter 1: "Rebirth"
o Chapter 2: "Renesmee"
o Chapter 3: "The Cottage"
o Chapter 4: "The Gathering"
o Chapter 5: "The Field"
o Chapter 6: "The Battle"
o Chapter 7: "Forever"
· "Two Movies at Once" featurette
· "The Forgotten" Green Day music video
· "Jump to" features
· Audio commentary with director Bill Condon
My Review:
Watching Breaking Dawn 2 was bittersweet for me. I had been excitedly waiting to finally see it, but was sad because it is the last movie in The Twilight Saga. It was worth the wait though! I think it was even better than Breaking Dawn- Part 1.
The movie begins with Bella waking up as a full-fledged vampire. It's amusing to watch her new found strength and see how she interacts with the other vampires especially Edward. It was funny watching her hug Edward and hear him tell Bella to hold not so hard. She's no longer the fragile human anymore.
It was also funny to watch the scene when Bella discovers that Jacob has imprinted on her daughter, Renesmee. To say she flips out is an understatement. Poor Jacob is at the mercy of Bella's new strength and it was humourous to watch him get beat up by Bella. She discovers that Jacob has the nickname, Nessie, for Renesmee and Bella shouts, "You nicknamed my daughter after the Loch Ness monster!". She does calm down though and accepts the situation for what it is. Jacob is basically Renesmee's protector and he has no ill intentions towards her.
Renesmee is half-mortal and half-immortal and very little is known about these types of children. Bella and the Cullens worry how long she will be with them since she is aging so quickly. In a matter of months she has grown to the size of a 7 year old child. She has special powers though like her parents and can communicate mentally by touching her hand to the person's face.
Mackenzie Foy plays Renesmee as a child and they couldn't have found a better little girl to play the part. She's sweet and pretty and is just like I would have pictured Renesmee in the book.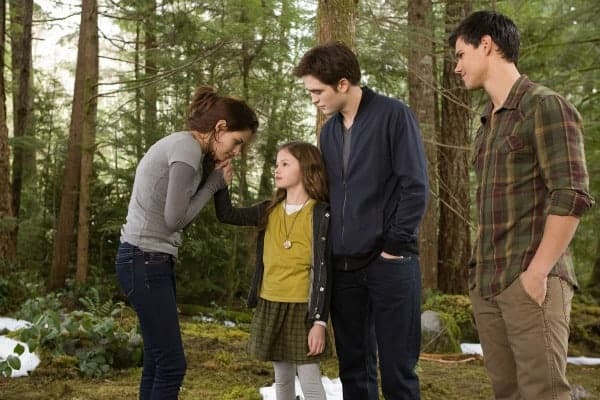 The Volturi believe that Renesmee is an immortal child after being told false information and have set out to destroy the child. The Cullens' realize they need help to prove that she is not, but require witnesses to show the Volturi the truth and that no laws have been broken. It was interesting to see them travel all over and bring back their vampire friends to Forks to bear witness. Many of the vampires had special powers like being able to manipulate the elements and electrocute people. One of the vampires helps Bella develop her gift, a shield, so she can protect others from the Volturi's special powers (especially Jane's whose gift is most feared).
The scene when the Volturi and the Cullens and their witnesses finally meet up is intense! Both John and I were shocked at what happened. I read the book over 5 years ago so I was trying to remember if that particular fight scene was in there or not. It does have violence in it so it may not be best for younger kids to watch.
We watched the movie three times this past weekend. Both my girls loved it. They want to do a weekend where we watch all the Twilight movies back to back. If you are a fan of Twilight and the other films, go pick yourself up a copy. Breaking Dawn- Part 2 is my favourite one of the saga!
 Disclosure: I was not financially compensated for this post. I received a sample of the product for review purposes. The opinions are my own, based on my personal experience with the product.