Ball Park Review
Our days here in NY are getting a little warmer, and thanks to the time change, a little longer. Spring is in the air, which means summer is just around the corner. There are so many things I love about summer – tops on the list being grilling and eating outside. There's something wonderful about sitting down at our patio set for dinner and enjoying the nice weather after a long day. I love grilling all types of food, but I have to say that hamburgers and hot dogs are my favorite to grill, and the Ball Park brand has me covered!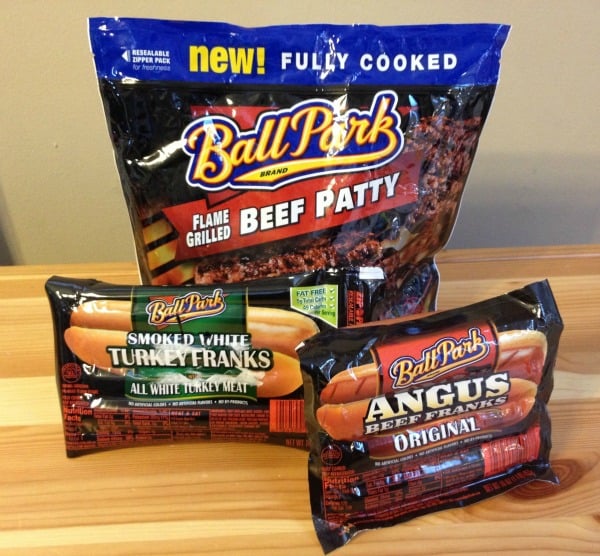 I received three coupons for free Ball Park products for this review. I chose the classic Angus beef franks, a pack of smoked white turkey dogs, and their newest product, flame-grilled beef patties. Since we are a few weeks away yet from digging out our grill, I brought the taste of summer inside for me and my boys. My boys LOVE the turkey dogs – and so do I! They are made from all white turkey meat and are a great healthy alternative to the classic franks. I cut them up for them with some mac and cheese and they were a hit! I love the taste of classic franks, so I enjoyed the Angus style franks. The burgers are great because they're fully cooked and easy to prepare right out of the freezer. All three products are great for grilling or cooking indoors regardless of the time of year!
Did you know, the Ball Park brand was launched in 1957 in response to a request from the owner of the Detroit Tigers baseball team? I had no idea, but I think it's a pretty interesting fact! The Ball Park Frank quickly became such a success at that ball park that it was expanded nationally. Ball Park is now a national premium brand of hot dogs with a reputation for great taste and quality and they can be found in supermarkets and convenience stores. Focusing on quality and delivering bold juicy flavor, Ball Park does not use Finely Textured Beef Trimmings (or what has been characterized in the media as "pink slime") in their products. You can see the full line of Ball Park products on their website. You can also keep up with them on Facebook where they are currently running a sweepstakes to help kick off the upcoming baseball season and celebrate the release of the Jackie Robinson movie "42".
Disclosure: I was not financially compensated for this post. I received a sample of the product for review purposes. The opinions are my own, based on my personal experience with the product.