ZO Skin Health Review
As I turn 40 years old this month, taking care of my skin health is more important than ever. My father lost his battle with skin cancer last year and a lifetime of sun damage (I am a Florida native) has left its mark on my skin. I have turned to skin care products from ZO® Skin Health and ZO® Medical to keep my skin in the best condition possible.
ZO® Skin Health has a full line of daily and preventative skincare. What does ZO® consider to be healthy skin? Descriptive words such as "smooth, strong, firm, even-toned, hydrated and disease-free" are the motivation behind this excellent line of skincare products.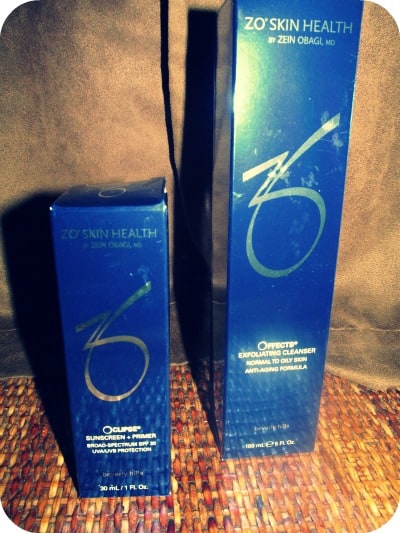 Every morning I begin by washing my face and neck with ZO® Skin Health by Zein Obagi MD, Offects® Exfoliating Cleanser. Designed as an anti-aging formula for normal to oily skin, this exceptional cleanser works to gently yet effectively exfoliate while removing dirt and oils from my skin. I use this again before bed to make sure that all traces of oil and make-up have been removed for the evening. I love the little beads (encapsulated vitamin E) which work very well to keep my normal/dry skin moist and it never feels stripped after using this product. It is specifically designed for people with blemish/acne prone skin and clogged or enlarged pores but it worked really well on my aging, dry prone skin too. It is available for purchase online at the ZO® website for the SRP of $35.
Rarely do I ever say that a beauty product is a "must-have" since everyone has different skin care needs however I firmly believe that everyone should have Oclipse® Sunscreen + Primer SPF 30 in their sun protection kit. This dual action product from ZO® Skin Health provides broad spectrum SPF 30 UVA/UVB protection to the skin and uses titanium dioxide and zinc oxide sunscreens to combat the damaging effects of sun exposure. I absolutely love the tint and satiny finish of the primer which makes my skin appear flawless…….who said I am going to be 40?! I live in Florida and battle humidity year round. When I use this product I don't have to worry because my skin is protected and my make-up looks perfect all day long with rarely a need to touch up. This product is available for purchase online for the SRP of $65 which is a very good value in my opinion since a tiny bit goes a long way and this product really works!
Brightenex™ is one of the highest quality skin brighteners and correcting crème available which does not use hydroquinone in its formula. How does it work? It was created by ZO® Medical to "target all three stages of skin discoloration through a patented, bio-vectored, microsphere delivery system" using retinol, vitamin A and ascorbic acid-2 glucoside, glucosamine, vitamins E and C, antioxidants and more. If you are experiencing hyperpigmentation of the skin then you are definitely going to want to give this product a try to get a more even looking skin tone and color. I appreciate that it also minimizes skin redness which I have experienced in the past and it has been surprisingly gentle on my skin with absolutely no irritating side effects. I will be using this product twice a week to keep my skin tone even, minimize the appearance of my freckles, reduce redness and most importantly, help prevent future damage from my environment and the sun. Brightenex™ (SRP $110) is available for purchase from leading physician's offices in the United States and you can get more information pertaining to this product at the ZO® website.
ZO® Skin Health Oraser® Body Emulsion, anti-aging formula is a luxurious treat for overall skin care from the neck down. The skin on my arms and legs is very dry and this product has amazingly restored its look and appearance to soft, smooth and glowing. Even my husband complimented me recently and asked me if I was using a new product because he said my legs, "looked great" which made me feel confident and dare I say….pretty again! This emulsion is not greasy at all and my skin soaks it up almost instantly with ingredients such as retinol, antioxidants and lactic acid. In fact, I can't remember the last time that the skin on my legs, chest and arms felt this soft and supple! This product is available for purchase online for the SRP of $80 for a generously sized 8.1 fl oz tube….remember a very small amount goes a long, long way.
There is a full line of excellent skincare products available at ZO® Skin Health. You are invited to visit the ZO® Skin Health website to browse the entire line of advanced skin care products to select the perfect products for your own skin care needs. ZO® Skin Health and ZO® Medical products are available for purchase online at the ZO® Skin Health website with some products available only through a physician (you can find a physician near you which carries this skincare line with the online locator).
Disclosure: I was not financially compensated for this post. I received a sample of the product for review purposes. The opinions are my own, based on my personal experience with the product.