WoodSnap Review
I've been fortunate over the past year to be able to grow my photo collection. I have loved experimenting with new mediums, different shapes, and sizes of the photos I have taken of my family. My home is filled with not only the wonderful memories that the photos captured but also the wonderful pieces of art they have been turned into. Now I have another great piece to add to my collection from WoodSnap.
I received the opportunity to have one of my photos printed on an 11×14 piece of wood canvas from WoodSnap for review. The picture I choose is one of my favorites from last fall – my oldest son in a pile of leaves. I thought it would be a fitting subject to be printed on wood! When it arrived I was quite impressed with the quality of the piece – it's a thick, sturdy piece of wood. The picture looks fantastic on the wood – when you're up close to it the grains subtly come through to give it texture. The colors blend so nicely with the wood, giving it a warm feeling – so different from just a plain photograph. The piece came with mounting hardware and instructions on how to care for the piece to keep it looking fresh and new. I'm in love with this medium for printing photos and am proud to have this piece in my home. This piece sells for $59.95 on the WoodSnap site.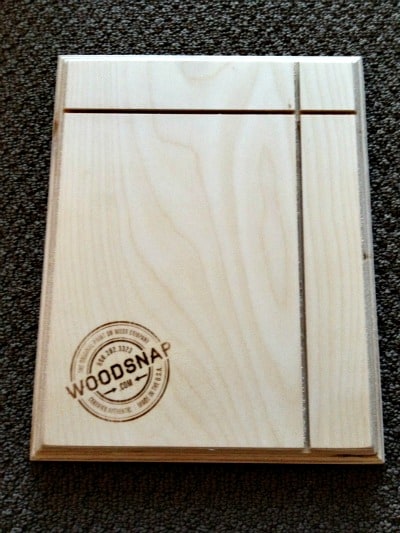 WoodSnap stands behind every piece they print – with dedicated wood-printing experts with over 15 years of experience in the printing industry. They print everything in house and are a leader in web technology and custom made to order wood canvases. Based in Southern California, they are an eco-friendly company that has supports sustainable manufacturing, treats workers fairly, and eliminates the use of harmful chemicals in their processes. They make it easy to place orders online but also provide customized quotes for jobs that may be a little out of the ordinary.
Check out the WoodSnap website to see the possibilities of your pictures on wood canvas.
Disclosure: I was not financially compensated for this post. I received a sample of the product for review purposes. The opinions are my own, based on my personal experience with the product.