UPERE Wedge Sneakers Review
Fashionable and comfortable are not two words that I normally use together to describe a pair of wedges but that all changed when I wore the wedge sneakers from UPERE.
UPERE.com has stylish shoes that are an interesting cross between a high top sneaker and high heels. These shoes really make a statement and are available in a wide range of styles and colors to fit your wardrobe. If you love shoes that are trendy and distinctive while still being so comfortable that you will want to wear these every day then you are going to LOVE the wedge sneakers from UPERE.com!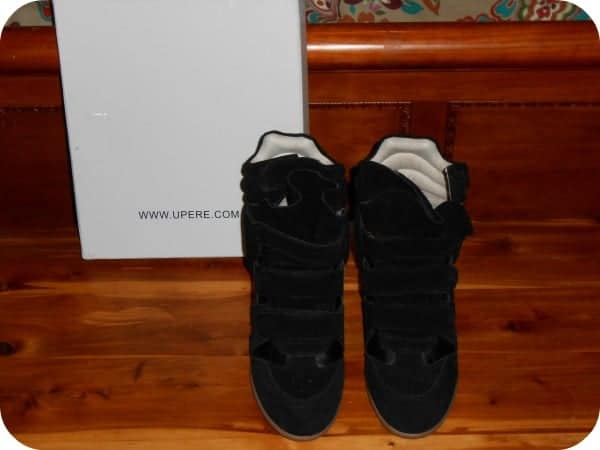 I really like the Black Suede UPERE Wedge Sneakers (SRP $191.98) which were surprisingly very comfortable for walking. The shoes feature a suede upper, three Velcro straps with Oval toe cap, a black tongue and 2 inches of hidden heals. My favorite feature is the anti-slipping rubber sole which made running errands in style a breeze. If you purchase these shoes just be prepared that there might be a distinct odor from the leather…..after airing out for several days the smell was gone. My UPERE Wedge Sneakers run very true to size with a nice bit of extra room.
UPERE shoes would be great with a pair of leggings or skinny jeans and you are sure to get compliments on these statement piece sneakers. Check out the really neat bold colored wedges from UPERE in Cobalt, Gold, Red, Silver, Red/Wine and several fabulous multi-colors.
You are invited to visit UPERE.com to browse the entire selection of Wedge Sneakers and purchase your favorite pair. UPERE.com is currently offering an online promotion where you can save 15% off your purchase using the official discount code! While you are there check out the trendy scarfs and clearance items to save you even more…….
Disclosure: I was not financially compensated for this post. I received a sample of the product for review purposes. The opinions are my own, based on my personal experience with the product.