Book Review | The Secret of the Nightingale Palace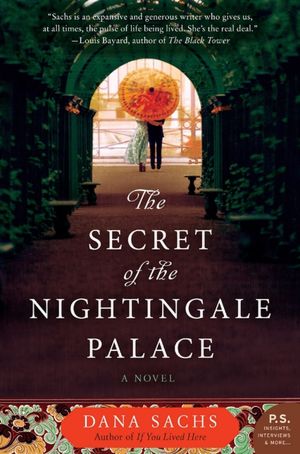 Title: The Secret of the Nightingale Palace: A Novel
Author: Dana Sachs
My Review:
The use of third party narration can sometimes cause a disconnect between me and the author, but Dana Sachs managed to keep me engaged throughout the entire length of The Secret of the Nightingale Palace.
It's easy to make judgments right away, and the same thing goes with characters in a book. You can either like them or hate them right from the start. I immediately liked Anna. The guilt and anger at the loss of her husband years before was unexpected but completely understandable as the story unfolds. The anger she has towards her grandmother, Goldie, is also understandable. It seemed to me that Goldie was being unnecessarily judgmental and cruel, but as more of Goldie is introduced she begins to make sense. I didn't like the reasoning behind her actions, but I did understand them.
There are five parts to the book. They switch us back and forth between the present and the past with Goldie as a young woman. I will admit that Part Two, the initial transition to young Goldie, was a bit slow for me. That may have had more to do with the way that Part One ended and not as much on how it was written. Or maybe it was because I was prepared to dislike Goldie after reading so many of the negative feelings that Anna had towards her that it took awhile for me to give the character a chance on her own. Either way, it didn't take long for Part Two to pick back up again and pull me in to the rest of the story. I ended up liking Goldie in her own, obnoxious and eccentric way.
I found the end unsatisfying in that it raised some questions for me, but not to the point where I wanted to throw the book across the room in frustration. I think it's because this book is all about the journey, the literal one that Anna and Goldie take across the country along with the one that we call life, and we get a surprise at the end that makes it feel like a big chunk of that journey is missing. If the theme of the book had been different I think I would have liked the ending better, but for now I'll just have to fill in the blanks as best as I can to bring myself some closure.
*I received a copy of this book for review, but was not compensated financially in any way. The opinions expressed are my own and are based solely on my experiences while reading this novel.*