The Glinda and Theodora Urban Decay Palettes Inspired by Oz the Great and Powerful #DisneyOzEvent
Every time I walk into Sephora, I cannot help but drool over all of the shimmery eyeshadows offered by Urban Decay. It is pretty rare that I will actually take the time to style my hair and apply makeup anymore, but ever since the Oz: The Great and Powerful Glinda and Theodora Palettes arrived at my front door, I have been slowly getting back into the habit of never leaving the house without "putting on my face".
Now having gotten to try a variety of products from Urban Decay (including eyeshadow, eyeliner, and lip color) I do not think I am ever going to want to go back to purchasing the drugstore items currently filling up my cosmetics bag. These gorgeous limited edition palettes inspired by the looks of Glinda (Michelle Williams) and Theodora (Mila Kunis) truly capture the glitter and glamour of Disney's Oz: The Great and Powerful.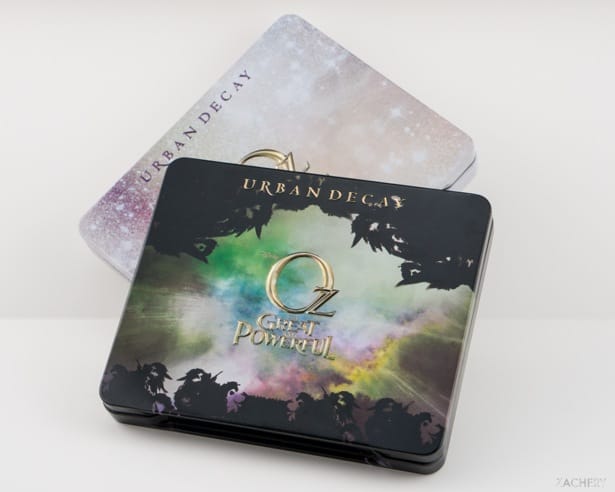 Each palette contains six different eyeshadow pots, an eyeliner, and a lip color. The eyeshadow pots in the palettes are full sized, so once you run out of your limited edition colors you can pop out the container and replace it with a different one. Trust me, you won't want to toss out either one of these gorgeous tins. I'm just as mesmerized by their appearance as I am by the shades included. The eyeliner glides on smoothly and is easy to smudge for a smokier look. I absolutely adored the lip color; it was creamier than I'd expected and I didn't feel the need to add any additional gloss over it.
The palettes also come with step-by-step instructions to help you get the exact look from the movie. Since I'm not much of a makeup artist, I really appreciate the directions as well as the imagery that goes along with them. I know I haven't done it as perfectly as a professional would, but I think I've come pretty close. I'm actually very tempted to bring my palettes to Sephora when they aren't so busy and have them teach me how to do it.
Glinda Palette
Glinda's look is perfect if you prefer a softer glow and a more natural look. There are some pretty dark colors in the palette, but since they get blended in with the other colors the results are very natural looking. My natural hair color is a very pale strawberry blonde (but I dye it blonde with a darker red underneath) and I have a very light skin tone just like Michelle Williams.
Theodora Palette
Of the two palettes, I think I have had the most fun with Theodora's. Since my skin tone has some natural pink to it, I've shied away from pink eyeshadows (when I'm not wearing eyeshadow, my eyelids are very pink!) and opted for darker, earthier colors like browns and deep greens, of which there are plenty in the Theodora palette. Theodora's look is very dramatic and strong. I was a bit uncertain about the red lip color that comes with this, but I very lightly apply it and then blend with a paler lip color that I already owned.
Both of the palettes are available online for purchase through the Urban Decay website for $49.00 each.
*I was not financially compensated for this post. I received samples of the product for reviewing purposes. The thoughts and opinions expressed are entirely my own.*