The Space Hamsters Review & Giveaway (US & Can)
My three children have been on a journey to outer space accompanied by their new plush friends…………The Space Hamsters™!
The Space Hamsters™ are a line of adorable plush pet toys that bring the popular iPhone and iPad app to life much to the delight of my little ones. The Space Hamsters™ app is only 99 cents and is available at iTunes for the iPhone and iPad.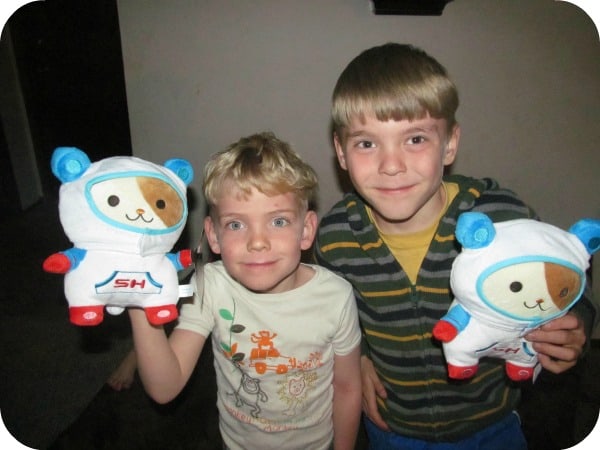 In this app, The Space Hamsters™ "embark on their very first U.S. mission where they rescue Nikki's missing French Bulldog!" It is an educational app for young children that include both an interactive story line and an educational space game with over 100 touch animations. While I was unable to review the app because I don't yet have an iPhone or iPad, I did review the plush toy line and was very impressed with this fun themed duo.
Adam, Hannah and Jacob immediately fell in love with "Sinjin" Space Hamster and his female counterpart, "Ruby" Space Hamster (SRP $22 each). These adorable "pets" are so cute with their soft bodies and heart shaped faces that they just beg to be hugged and cuddled when not going on exciting space adventures. The Space Hamsters measure about 8" tall and 6" wide and each has a removable helmet with an interior star pattern. There is a neat little "secret compartment" in the back of the Space Hamsters spacesuit where my kids like to hide their valuables for "future missions". I am so pleased with The Space Hamsters™ plush toys that I would definitely purchase the app for my children to play when I get my first iPad.
In addition to the plush toy line there is a selection of themed apparel for babies, kids and adults including onesies , a cute romper set and t-shirts available from The Space Hamsters™.
You are invited to visit The Space Hamsters™ website to learn more about this app and purchase your favorites from the product line.
Connect with The Space Hamsters™ on Facebook and Twitter too!
DEAL ALERT: Purchase a Space Hamster™ Ruby or Sinjin plush toy on Amazon and receive a FREE boys Space Hamster t-shirt while supplies last!
Giveaway
One lucky reader will receive one plush toy (either Sinjin or Ruby) from The Space Hamsters™ line!
Check out the list of all my current giveaways!
Disclosure: I was not financially compensated for this post. I received a sample of the product for review purposes. The opinions are my own, based on my personal experience with the product.