Snugli Car Seat Review
I've mentioned in past reviews about how I take great care in choosing car seats for my kids. The seats in my car, as well as in my husband's car, have been researched, talked about, and came highly recommended from people and brands I trust. I feel good knowing my kids are safe in our cars with the seats we have. So when the opportunity to review a new car seat from Snugli came along, I wanted to make sure it fit in with my high standards before we put it to use.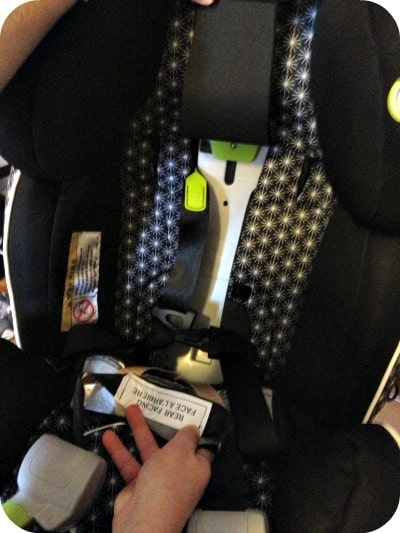 I received a Snugli All-In-One Car Seat in the Starburst pattern for review. This seat has some really great features, including three layers of foam to reduce the impact of side crashes and memory foam for comfort. The seat also has a feature that my husband is a big fan of – you can access the harnesses through an opening in the middle of the seat, which means you don't need to take off the cover to switch from rear to forward facing, and you don't need to re-thread the straps to adjust the shoulder harnesses. We thought this seat would be a good fit for my almost-two-year-old son, Noah. Not only was Noah happy sitting in the seat, but I think it's a great fit for his size. I took a picture of him in the seat before we put it in the car so that you could really see the fit and size. Installation took a matter of minutes. The LATCH connectors and the TruTether straps made the process pretty easy. I feel good knowing that Noah is safe riding in this car seat and that he's comfortable too thanks to the comfort cooling fabric which absorbs and stores extra heat. The Snugli All-In-One Car Seat has an MSRP of $329.99 and is available through their online retail partners. This is a great price for a seat that will last from rear-facing newborn use to a toddler booster, accommodating a child up to 110 pounds.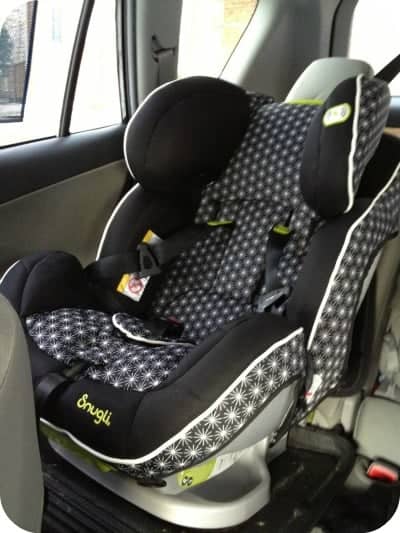 As the child of parent company Evenflo, Snugli offers a full line of baby gear with style – from car seats to strollers, carriers and high chairs. Snugli has partnered with designer Jennifer DeLonge in an effort to combine safety with modern style. You can check out the full Snugli line on their website. While you're there, sign up for their newsletter to stay on top of the latest news and products from Snugli. You can also keep up with them on Facebook, Twitter, and Pinterest.
Disclosure: I was not financially compensated for this post. I received a sample of the product for review purposes. The opinions are my own, based on my personal experience with the product.