Science and Inventions Creativity Book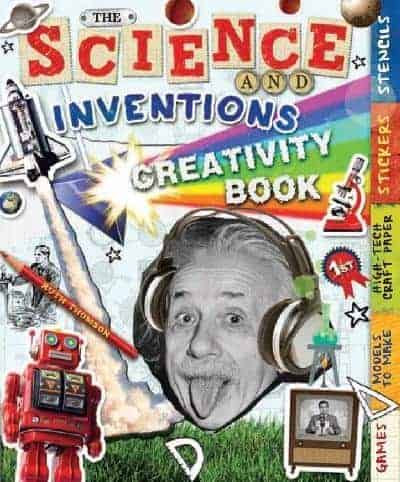 Title: Science and Inventions Creativity Book
Author: Ruth Thomson
My Review: 
You're driving through the countryside, not another car for miles. The sun is shining, your hair is blowing in the breeze coming through the open car window. You breath deeply and sigh. What a beautiful day for a road trip. Then out of the back seat you hear a high pitched scream "ARE WE THERE YET?" Gone, shattered in a second is your fantasy of a drama free trip.
What could you possibly do to keep your children entertained for hours at a time while driving? ipods? Video games? Sure. But wouldn't it be so much healthier and more challenging for them if they actually had something productive to do? This is where Science and Inventions Creativity Book can be a life saver. Hours and hours of learning and fun, all wrapped into one book. The book is written in large print and has easy to follow instructions. Crayons and a pair of scissors would be a great addition.
This activity book is large enough to fit comfortably on a child's knee. There are games, models to make, high-tech craft paper, stickers and stencils. They can learn how to draw a submarine, read up on when various school supplies were invented, be a budding botanist and draw their own amazing new plant, and play The Great Inventions and Discoveries Game, plus so much more. This book is geared towards both boys and girls, and will ensure hours of fun and learning. In the car, on a plane, or sitting at the kitchen table, wherever they choose to be, there will be an invention waiting for them.
*I received a copy of this book for review, but was not compensated financially in any way. The opinions expressed are my own and are based solely on my experiences while reading this novel.*