Scholastic Storybook Treasures® March On! & Stone Soup Review
Without a doubt, the Scholastic Storybook Treasures® DVD titles are my favorite enrichment resource to use in our home school. By "bringing to life" favorite award-winning children's books, Scholastic Storybook Treasures® collections engage children with rich text and beautiful illustrations. All three of my children (ages 7, 6 and 5) are at various stages in the process of learning how to read. I appreciate how much they look forward to viewing the latest Scholastic Storybook Treasures® titles where they can practice reading along with the DVD narration while absorbing audibly and visually all of the wonderful classic stories. Each Scholastic Storybook Treasure® DVD title features stellar celebrity voice narration and the most interesting stories.
This month my children were delighted to view two new Scholastic Storybook Treasures® including the 3-DVD collection celebration of African American Heritage featuring, "March On!" along with 12 additional stories. In history class, my children have been learning about the inspirational leader, Martin Luther King Jr. and they loved learning more about this amazing man in "March On! The Day My Brother Martin Changed The World" and "Martin's Big Words". Viewing the inspirational story, "Rosa" actually brought my eldest son to tears while all of them were thrilled to see one of their favorite stories, "Henry's Freedom Box" light up the television screen. This collection also features a celebration of artists/musicians such as Ella Fitzgerald and Duke Ellington which was inspirational to my own son who dreams of becoming a musician when he grows up. Finally, the collection of African Folk Tales was fantastic including "Why Mosquitoes Buzz in People's Ears", "Hot Hippo" and "Who's in Rabbit's House?" along with other entertaining stories. With a total run time of approximately 210 minutes this DVD will provide many hours of entertainment while promoting educational content including "history, friendship and music appreciation." The Stories About African American Heritage featuring March On! 3-DVD collection is available for purchase for the SRP of only $24.95 which is an excellent value in my opinion!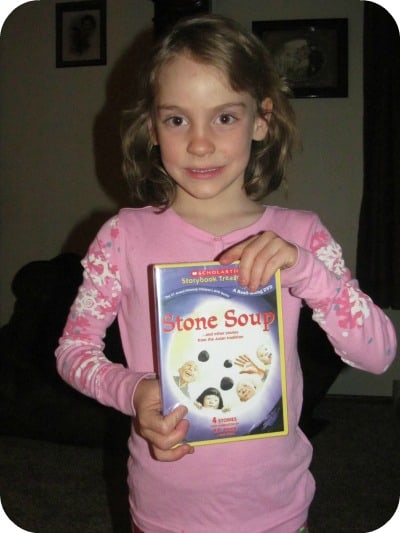 Stone Soup….and other stories from the Asian tradition includes 4 stories with narration by B.D. Wong and other talent. The featured story is one of our all-time favorites, "Stone Soup" and my children got very excited when this title played for them. It also includes "The Five Chinese Brothers", "Lon Po Po" and one of their newest favorites, "The Stonecutter" about a poor stone cutter who dreams of gaining power. I appreciate that each of these wonderful stories teaches a moral lesson and supports "generosity, community and caution." This Scholastic Storybook Treasures® title, Stone Soup….and other stories from the Asian Tradition is now available for purchase with a SRP of $14.95.
I highly recommend Scholastic Storybook Treasures® and there is a vast library of titles to choose from so you are sure to be able to find your child's favorite books and watch them beam as they see it come to life on screen! You are invited to visit the New Kideo website to purchase these titles or browse the entire Scholastic Storybook Treasures® collection of DVDs.
Disclosure: I was not financially compensated for this post. I received a sample of the product for review purposes. The opinions are my own, based on my personal experience with the product.