Rock Revival For Her Fragrance Review
Finding a fragrance to wear that my husband actually likes is almost impossible because he is extremely picky. I was thrilled when he declared Rock Revival For Her one of his favorite scents that I wear because it is one that I really love too!
Rock Revival For Her by Tru Fragrance smells wonderful with notes of lush fruits, flowers and earthiness. The top notes are pink apple and fresh mandarin with mid notes of magnolia, plum blossoms and pink peony. The bottom notes of white musk, white oak and golden amber really add to the other scents making it burst into a bold yet never overpowering fragrance. The fragrance is subtly fruity and exotic without being too strong which I appreciate.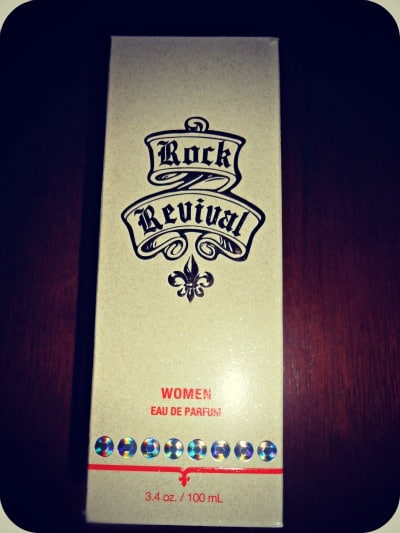 It is a fresh, pretty and very feminine scent that is quite long lasting. When I wear Rock Revival For Her I feel confident and have even had complete strangers stop me and ask what fragrance I am wearing.
The gorgeous Rock Revival For Her spray bottle looks so pretty as it sits on my vanity table and it really makes a statement. The pearly white bottle has vibrant copper flecks with a pretty sparkling rhinestones cap.
I am currently packing for our first overnight night of romance with my husband without our kids and made sure that I have Rock Revival For Her in my bag for my chosen fragrance.
Rock Revival For Her is available for purchase in a generously sized 3.4 ounce spray bottle for the SRP of $49.95. I find this to be a great value because it smells so good that you would think it is a much, much pricier perfume.
You are invited to visit the Tru Fragrance website to learn more about Rock Revival For Her and all of the other amazing fragrances available for men and women.
Disclosure: I was not financially compensated for this post. I received a sample of the product for review purposes. The opinions are my own, based on my personal experience with the product.