Peter Pan: Diamond Edition Blu-ray Review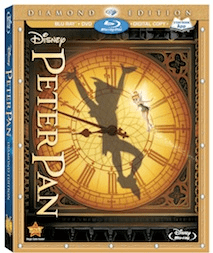 On its 60th anniversary, Disney's Peter Pan arrives on Blu-ray beautifully packaged as a 3-disc set including Blu-ray, DVD, and Digital Copy. Bring the timeless classic home to your family on February 5th, 2013 and enjoy new digital restoration, HD picture and sound, plus some all-new bonus features.
Disney's Peter Pan (1953) is a story that never gets old to me, no matter how many times I watch it. This was the very first movie I shared with Zoe as soon as we came home from the hospital and began to bond with one another. It has always been a very special movie to me, and now I am delighting in watching her fall in love with it too. Out of any magical place, Never Land is where I would most want to live.
In our household, Peter Pan can often be found playing on our main television or on one of our iPads. With the Blu-ray, I gave it my attention so I could drink in the new updated sound and picture quality. The colors are brighter and fuller, the lines in the hand drawn animation crisper. Everything about the new restoration makes Peter Pan, 60 years young, feel sparkling new.
Peter Pan is the story of the Darling children: Wendy, Michael and John. Wendy is the eldest, and entertains her younger brothers with stories of Peter Pan and his adventures in Never Land. The Darling children believe Peter Pan is a real person, but Mr. and Mrs. Darling believe he is nothing more than a fairy tale. One night the Darling children and left home unattended while their parents attend a party, and Peter Pan visits the Darlings' nursery room to find his lost shadow. Wendy awakens when she hears Peter wrestling with his shadow.
Peter Pan whisks the three children away to Never Land, where they have adventures with mermaids, Indians, and the most dangerous pirate of all–Captain Hook! Ever since Peter Pan fed Hook's hand to the crocodile, Hook has wanted to do away with Peter Pan for good. Using Tinker Bell's jealousy of Wendy for his own purposes, Hook comes up with a plan to rid Never Land of Peter Pan once and for all.
I love everything about Peter Pan. The very idea of a magical island where children never grow up has always fascinated me. As a child, I spent many hours pretending I was Wendy, and hoping Peter Pan would take me with him to Never Land. Even now, I'll still gaze up at the sky, searching for Never Land. And on particularly cloudy days, I'll look at the clouds nearest the moon and hope for a glimpse of Peter Pan's pirate ship.
Bonus Features:
Growing Up with Nine Old Men Ted Thomas, son of animator Frank Thomas (one of Walt Disney's "Nine Old Men") meets up with the sons and daughters of the nine old men. They share what it was like for them growing up, and memories and stories of Walt himself.
Deleted Scenes and Songs This new feature includes two deleted scenes and two deleted songs. The scenes are: The Journey Home and Alternate Arrival. The songs are: Never Smile at a Crocodile and The Boatswain Song. In The Journey Home, we see the Darling children's final goodbye to Peter Pan and the Lost Boys, and their last adventure together. In Alternate Arrival, Nana gets to go to Never Land too, and the Darlings have an encounter with the pirates. These scenes were not animated; what you'll see is the storyboards. This is the original recording of Never Smile at a Crocodile, sung by Henry Calvin. The song was released in 1953 on a popular record, but isn't in the film. The Boatswain Song was found many years later by researchers at Walt Disney Records. It was composed by Frank Churchill with lyrics by Larry Morey.
Disney Song Selection Play your favorite Peter Pan song scenes and sing along because the words are on the screen for you! Includes The Second Star to the Right, You Can Fly, A Pirate's Life, Following the Leader, and Your Mother and Mine.
Audio Commentary Watch the entire film with commentary from Walt's brother Roy.
Classic Music & More Includes The Pirate Song (deleted from film), The Never Land song (composed by Richard Sherman), The Never Land music video (performed by Paige O'Hara), and The Second Star to the Right music video (performed by T-Squad).
* I was not financially compensated for this post. I received a sample of the product for review purposes. The opinions are my own, based on my personal experience with the product.*